I've made the most money in my investment career doing one simple thing: Buying what's cheap and hated.
The cheaper, and the more hated, the better the returns.
The problem today is, nothing is cheap anymore, and nothing is out of favor. Heck, many things – from stocks around the world to commodities like oil – have doubled since last March.
But wait! There is one asset out there that is incredibly hated...
It is so hated...
there's never been a moment in history where the bets against this asset have been as lopsided as they are right now
.
And it is so cheap... you have to go back many years to find a time when the price of this asset was this cheap.
The great part is, looking ahead, this investment actually has nearly unlimited demand. It is an incredibly useful asset.
And unlike many investments, this asset can't go to zero... It has a built-in price "floor." When it gets cheap, people stop using other assets and switch to this one.
The asset I'm talking about is natural gas...
While the price of oil (and everything else) has soared, the price of natural gas has fallen more than 70%... It peaked in the summer of 2008, over $13, and it now stands around $4. Why is it so cheap and hated now?
In short, a new technology changed the game entirely...
Just a few years ago, the outlook for U.S. natural gas production was bleak. Supplies were dwindling. And with limited supply, prices were rising.
Then, new technologies (including horizontal drilling) came along, allowing us to extract gas we couldn't really get to before. And just like that, the potential supply of natural gas in the U.S. is all-of-a-sudden enormous.
It's Economics 101. When the supply outpaces demand, prices fall. It is obvious – so obvious, in fact, the crowd is in on the trade...
Just as investors now believe stocks are a "sure thing" to go higher – AFTER they've doubled, investors now believe natural gas is a sure thing to go down – AFTER it's fallen over 70%.
Specifically,
right now, there are more bets against natural gas by large speculators than there have ever been in history
.
The old rule about the large speculators goes something like this... They're "wrong at extremes, and right in between." Right now, we're at the greatest extreme, ever. Chances are, they're wrong.
The thing is, all these bets against natural gas have to be reversed... That means we must see billions of dollars worth of "buy" orders in natural gas futures, because that's the way these traders close out their trades. So the price of natural gas could rise dramatically – and possibly soar – just in the normal course of all these large speculators entering billions of dollars worth of "buy" orders to close out their bets against natural gas.
I love it.
Now think about this... Natural gas has a permanent price "floor." When it gets particularly cheap, energy companies want to substitute natural gas for what they're using – whether it's oil of some kind, or coal, or whatever. According to my geologist-friend Matt Badiali, we're just below that price floor. Power plants are already switching over to natural gas.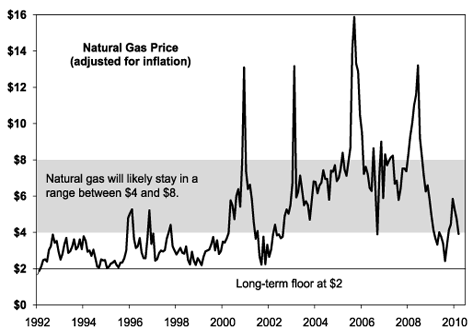 Our energy use in America changes at a very slow pace. But the trend for "dirty" coal is inexorably down, and the trend for natural gas is the opposite. The new technologies for finding and getting to natural gas in America virtually ensure its future use.
Energy-stock analyst Kurt Wulff said it best in one of his reports at
www.mcdep.com
: "While the natural gas market may have too much supply and too little demand in the short term, there is practically unlimited demand to replace coal in the long term."
The price of natural gas has fallen and investors are fearful. Meanwhile, it's close to multiyear lows in price. So it's CHEAP and HATED.
The world's best investor, Warren Buffett, says, "Be fearful when others are greedy, and greedy when others are fearful." Investors are greedy for every investment these days... except natural gas.
It's time to be like Warren Buffett... It's time to step in when others are fearful.
Sell some of the stuff in your portfolio that's doubled. Take that money and get yourself some exposure to natural gas.
Good investing,
Steve