Going back to 1973 (as far back as we were able to test), Meb's simple investment system beat the stock market AND it never had a losing year.
(OK, it lost 0.6% in 2008... in a year when just about EVERYTHING lost 30% of its value or more.)
Meb's simple system delivered the investment Holy Grail: higher returns, lower volatility, and much lower "drawdowns." The drawdown number was particularly outstanding... The WORST fall from peak to trough, going back to 1973, was less than 10%. Unbelievable!
Take a look at how the system performed during the Great Recession...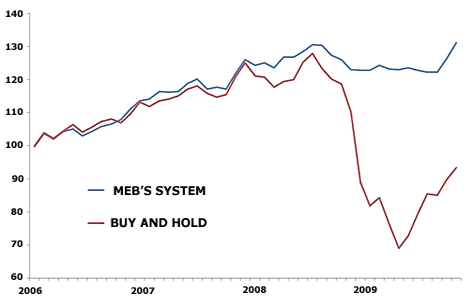 In the simple version of Meb's system, you only look at the markets 12 days each year. And there are only five funds to own: U.S. stocks, foreign stocks, bonds, commodities, and real estate stocks.
You have 20% of your portfolio in each of these five asset classes... and you are either in or out of each of them every month. So you might be only 40% invested one month, then 80% invested another month, depending on the system.
"If you haven't heard of Meb Faber, you will," I told you back in October. Meb simply has too many good ideas.
His latest innovation is a new exchange-traded fund...
The goal of Meb's new fund is to give investors a one-stop way to buy into his system...
Instead of just using the five simple asset classes from his original system, Meb will look to "all of the global asset classes including U.S. equities, foreign equities, U.S. bonds, foreign bonds, U.S. real estate, foreign real estate, currencies, and commodities," according to the fund's SEC filing.
The goal, of course, is the same as his original system: higher returns with lower volatility.
According to the SEC filing, Meb and his business partner at
Cambria Investments
have already been managing people's money along the same lines as they will manage money in the fund. They've done it since March 1, 2007. As of April 30, 2010, (as far as it goes in the SEC filing), they're up 4.39% annualized per year, versus the S&P 500 return of -2.95%.
Said another way, they've outperformed the stock market by an average seven percentage points per year since they started three years ago.
Meb's new fund should be available soon. Information will be posted at
www.AdvisorShares.com
. The symbol for the fund will be GTAA (for Global Tactical Asset Allocation fund).
Set aside some cash for it. I plan on adding it to my True Wealth portfolio as soon as it launches.
Good investing,
Steve