Keep your eye on financial stocks right now.
They hold the key to the stock market...
Financial stocks like Bank of America, Goldman Sachs, and JPMorgan have gotten hammered in the past four months. They've reported awful results.
Goldman Sachs is the "vampire squid" of Wall Street. It's infamous for its suspicious ability to make trading gains every single day. But even Goldman reported lower-than-expected earnings on Tuesday. And Bank of America, one of the country's biggest banks, just reported even worse results. It lost nearly $9 billion on bad mortgage bets.
In short, things stink for financial stocks.
Now, take a look at this chart below. It's the S&P Financial Fund (NYSE: XLF). Major weightings here are JPMorgan, Bank of America, Goldman Sachs, and Citigroup. And as you can see, this group is well off its yearly high: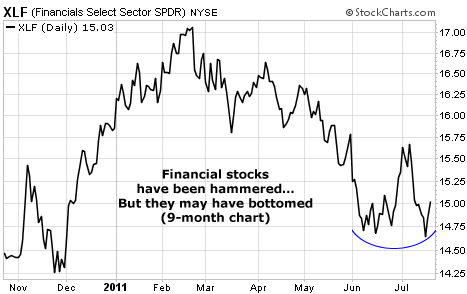 But notice the right-hand side of the chart. Despite some awful earnings reports and widespread pessimism about the sector, the XLF has managed to "stick" around the $14.80 per share level for the past month. Even Bank of America has managed to climb back up to the levels it was trading for before it reported its massive quarterly loss.
When a beaten-down sector reports more bad news but manages to hold steady or trade higher, it's a bullish sign. Financials themselves are due for at least a short-term rebound. But there's an even bigger story here...
If
banking stocks
manage to rally, it's a bullish sign for the broader market... and the economy in general. These companies are the backbone of America's leveraged financial system. They are the companies that rise and fall according to America's ability to make money, save money, invest in new businesses, and service debts.
The market cannot put together a sustained, healthy rally unless these businesses start generating profits and share price gains.
I think the chances are good a bigger rally will take hold. Many banks are trading for less than their book values and under eight times earnings. Plus, the government's low interest rate policy makes it cheap for them to borrow money.
And as you can see, the price action in the sector is getting a little "less bad" than it was in June. If these stocks continue to rally, the broader market is going with it.
Regards,
Brian Hunt