The Governor's Residence in Yangon is a richly restored teak mansion set in the leafy embassy quarter of the city. Now a luxury hotel, it was once the home of the governor when the British ruled Burma.
I met Mai Nguyen on the verandah for breakfast, under lazily spinning ceiling fans, amidst lush gardens and lotus pools. Mai is a Vietnamese transplant from Saigon. She is also an associate director at Yoma Strategic Holdings. Listed in Singapore, Yoma is a direct proxy for Myanmar's booming property market and one of the key opportunities I wanted to vet while I was here.
As regular readers know,
I traveled the Golden Land
, visiting Yangon, Bagan, Mandalay, and Ngapali. Mai was my first meeting in the country, and what follows is another glimpse at the extraordinary opportunities here.
Mai works for Serge Pun, who owns 50% of Yoma and is one of Myanmar's famous dealmakers. Pun left Myanmar in 1965 and spent nearly 30 years in Hong Kong and China. He came back to his home country in 1991 to found businesses in real estate, agriculture, automobile dealerships, and more. Yoma is primarily a real estate play with an enviable land bank of 12 million square feet in Yangon.
Just how valuable that land bank might be is easy to guess: very. There has been practically no development for 50 years in Yangon. This is the largest city in Myanmar, with a population of 4 million. The first chart of the nearby pair shows you how Yangon stacks up in population against its fellow members of the Association of Southeast Asian Nations.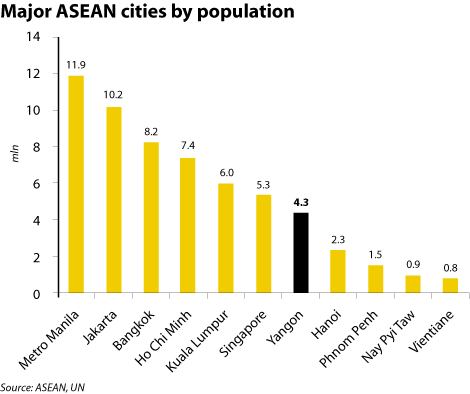 The second chart shows you something of the growth potential of the city. It shows you the amount of office space in Yangon compared with regional peers. Consider that Hanoi, a city with half the population of Yangon, has nearly 17 times as much office space.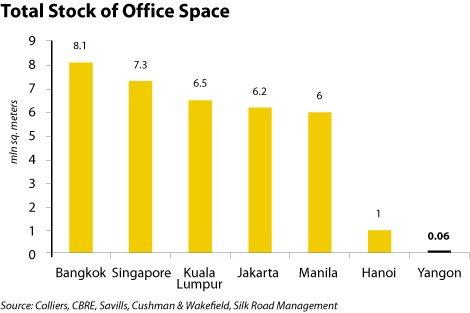 As Myanmar has opened up, prices have spiked. Through September, the average rental rate for office space per square meter is up 55% on the year. Vacancy is virtually nothing. For this example, I chose office space. But I could just as easily have picked hotel rooms, apartment units, or retail space. They all tell the same story. For Yangon, or Myanmar as a whole, these markets barely register as flyspecks. For developers of new properties
–
if you have the land
–
there is a fortune in the offing.
Mai helped fill in some details over hot bowls of mohinga. (This is a classic Burmese dish of fish soup and rice noodles, topped with split pea fritters, boiled egg, coriander leaves, dried chilies, and a squeeze of lime juice. You find it everywhere in this country.)
She also shared valuable research with me about Myanmar and anecdotes about what it was like to live there.
Mai told me about Yoma's signature Pun Hlaing Golf Estate development. Pun Hlaing has over 600 acres of prime real residential estate. It sits on a peninsula between the Hlaing and Pan Hlaing rivers, about eight miles west of Yangon. Mai promised to arrange a tour of the property for me. I thanked her and dabbed at my forehead with a napkin. The spicy hot mohinga and humidity were making me sweat. I was often sweating in Myanmar.
When I got to see it, I was not disappointed. Pun Hlaing Golf Estate is gorgeous, an oasis from the traffic and noise of the city outside its gates. An 18-hole Gary Player golf course wends it away around high-end bungalows. There is a lot of water
–
18 lakes, the brochure says. The grounds are immaculate and you can see the famous Shwedagon Pagoda in the distance. Next time, I'll bring my clubs.
Tun Tun Lin, the sales director for the project, showed me around. There are 326 properties already built, and 220 families reside on the estate year-round. We looked in a number of these
–
villas, condos, and apartments. They would be high-quality anywhere in the world. There are also tennis courts, a swimming pool, a spa and salon, a gym, and a comfortable clubhouse overlooking the 18th green where we had dinner.
It's good to visit places like this, to see the best that one can achieve in a country. I would see the full spectrum while in Myanmar. In the big-picture sense, the country is poor. Per capita income is only $900. Compare that with $1,400 in Vietnam and $5,000 in Thailand.
As I've mentioned in other places, this disparity is due to 50 years of evil dictatorial oppression. Go back before World War II. Myanmar (then Burma) was perhaps the richest country in Southeast Asia. I see no reason why, as long as the country continues to move toward freer markets, it can't again at least move closer to neighboring Thailand. This "catching up" idea is at the heart of my book
World Right Side Up: Investing Across Six Continents
.
There are plenty of risks. Myanmar's economy is not an inevitable sunrise. The thuggish generals and their cronies still have power. And there is ongoing ethnic and religious violence in the west between Muslims and Buddhists. Other parts of the country have similar troubles.
In reading as much about Myanmar's history as I could get my hands on, it's worth remembering that it has often been a fractious country with chieftains holding sway over areas as large as Scotland or strongholds as small a single hilltop. There are a bewildering number of tribes beyond the Irrawaddy River Valley, from the "giraffe women" of Padaung to the former headhunting Wa. But in terms of pure upside potential and size (with a population of about 60 million), there is nothing like Myanmar in the world.
It seems like people are interested in the story. When I got home, I sat for an interview with Lauren Lyster on the TV show Capital Account in Washington, D.C. And I also did a 40-minute interview with one of Myanmar's English-language business magazines, MZine+. People wanted to know what I thought and what my impressions were.
Later, I saw Lauren interview Jim Rogers, the prescient globe-trotting investor and author. In that interview, he said: "If I could put all my money into Myanmar, I would."
Unfortunately, for a public stock market investor, it isn't easy to
invest in Myanmar
. Jim Rogers admitted as much, which made me feel better about my inability to turn up a good actionable idea despite my best efforts. (At least, not yet.) Yoma is really it
–
and its price, I have to say, reflects that.
Still, the market has a way of manufacturing what people want. And already I've had brokers and promoters send me information on tiny mining or oil and gas companies trying to raise money and do something in Myanmar. I'd avoid these. But good funds and ideas will come.
Regards,
Chris Mayer