I'm extremely bullish on natural gas.
That might sound strange to you. If you've been reading our work for any amount of time, you've heard about new drilling techniques that have produced a tremendous glut of natural gas in the U.S.
But it probably doesn't sound as strange as it did in April 2012,
when I first told you
. You see... since then, prices have doubled, from about $2 per thousand cubic feet (mcf) to $4.
And there's more to come.
In short... I believe that within three to five years, massive amounts of new domestic demand and a huge expansion in export capacity will cause the price of natural gas in the U.S. to approach international prices around $10 per mcf.
That will make U.S. natural gas producers some of the most profitable businesses in the world.
Rumors out of Washington, D.C. this month say the Obama administration is now prepared to move forward with new LNG (liquefied natural gas) export licenses for both the Freeport project in Louisiana and the Dominion's Cove Point project in Maryland. In three or four years, these facilities will begin to move large quantities of natural gas from shale formations in Texas and the Pennsylvania-New York area to overseas markets.
In addition to these new methods of distribution, roughly $50 billion worth of new industrial and chemical facilities are being built near the sources of natural gas in the U.S. And hundreds of compressed natural gas (CNG) filling stations are being built right now across the U.S. to help support the growing number of natural-gas-powered trucks.
Finally, and perhaps most important, U.S. electricity producers will retire roughly 13% of the country's fleet of coal-fired power plants in the next year, replacing them with natural-gas-powered plants.
This new demand is already prompting changes in the natural gas market...
The first chart below shows the average amount of natural gas in storage in the U.S. Gas in storage grows in summer and declines in winter. That's why you can't simply measure total gas in storage. What's significant is the amount of gas in storage right now versus the average amount of gas in storage during this time last year.
For the first time in a long time, the amount of gas in storage is now below average. You can see that when prices bottomed at less than $2 per mcf in April 2012, gas in storage was well above average levels.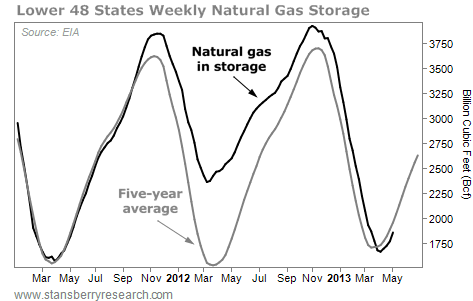 Clearly, the surplus gas being produced in the U.S. is beginning to find its way into new uses. And I believe the lack of gas in storage will continue to widen, sending prices back to more than $6 per mcf over the next 12-18 months.
This relatively small increase in price will have a huge, material impact on the net income of natural gas producers.
Of course, there's risk here. Production could outpace the growth in demand. If barriers to
natural gas exports
aren't fully resolved, the price of natural gas could fall back to $2 per mcf and the entire natural gas sector would be at risk of going bankrupt.
I recommend looking for the cheapest names in the sector with responsible management teams. These will give you the widest margin of safety. But don't wait too long...
It's important to try buying natural gas reserves and production now, while the fuel's domestic prices are still very low. If we wait until natural gas is trading for more than $6 per mcf, we will miss the big move off the bottom in these stocks.
Good investing,
Porter Stansberry