The Dow Jones stock index in the U.S. has fallen 400 points since last Tuesday. That's a 2.7% drop.
But it could be much worse...
Japan's "Dow" has fallen by over 2,000 points in just 10 days. That's a fall of 18% – in the entire stock market!
What's going on? Should we worry? Could it happen here? And what can we do to protect ourselves?
What's going on in Japan is actually the same thing that's going on in the U.S. – Japan's leaders have been "printing money" to prop up the economy.
The stimulus in Japan worked... Investors gained confidence. Over six months, Japanese stocks ran up by about 7,000 points – from a low of around 8,500 to a peak above 15,500.
In my
True Wealth
newsletter, we saw the stimulus coming... and we bought in late last year. Specifically, I recommended shares of the WisdomTree Japan Hedged Equity Fund (NYSE:
DXJ
).
True Wealth readers have made a lot of money. The position was up as much as 46%...
But in the last 10 days, the Japanese market has fallen to 13,000. And DXJ has obviously given back a lot of its gains.
How will we handle this bust?
I'm not too worried about it for two reasons: First,
Japanese stocks are still cheap
... The stocks in DXJ are trading at just 1.2 times book value, less than 0.6 times sales, and 7.7 times cash flow. That's dirt-cheap.
Chances are more likely that stocks in Japan will soar from these levels than crash – especially with so much government stimulus propping them up.
Second, our worst-case exit strategy will still keep us "in the money."
I think this is just a correction. But I could be wrong. Fortunately, in case I am wrong, we have our worst-case exit strategy in place. This exit strategy will allow us to exit this trade with a profit, regardless of what happens...
When I first recommended shares of DXJ in True Wealth, I said to use a 25% trailing stop. Since the shares of DXJ have gone up so much already, we would still pocket gains of about 10% even if we hit our trailing stop...
The blue line in the chart below shows what I mean... If DXJ continues falling, we'll stop out about 10% above our entry price.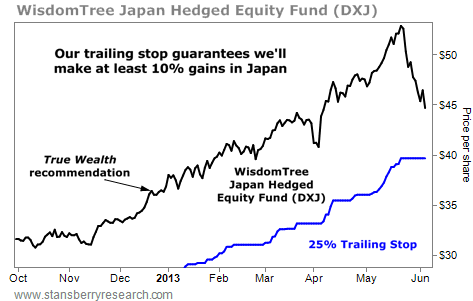 Could U.S. stocks fall by 18% in 10 days? Absolutely...
Japan rose for the same reasons that the U.S. has been rising – because investors believe the central bank's stimulus will have a positive effect on the economy.
But what if it doesn't work? That's what's scared Japanese investors all of a sudden. What if the central bank decides to slow down on its stimulus? That's what's worrying investors in America today.
My personal belief is that this central-bank-created bubble can go to much higher heights.
But again, if I am wrong, I have my trailing stops in place. I will happily take my healthy profits off the table if I hit my trailing stops.
In my newsletters, we've had some fantastic winners in this great bull market. But I know this great bull market in assets is built on a mirage created by our central bankers. I know that it will end.
My belief is that it has much farther to run. But if I'm wrong, I have an exit strategy so we can lock in our profits.
You should do the same...
Good investing,
Steve