Among the most important financial decisions you'll ever make is the decision to buy precious metals like gold and silver.
At Stansberry & Associates, we have been urging investors to buy precious metals for more than 10 years. We own precious metals ourselves. We've even published books on the right ways to invest in them.
But we see precious metals like gold and silver differently than most financial professionals…
We don't see them as conventional investments. We see them as money. We see them as real, intrinsic wealth. We don't
buy precious metals
to grow our wealth. We buy them to have wealth.
We also see precious metals as good "oh crap" insurance to hedge ourselves against a big crisis in the world's monetary system.
From 2002 to 2011, gold climbed from $300 per ounce to $1,900 per ounce. Since then, gold has experienced a natural correction down to $1,250 an ounce.
If you've never bought precious metals before, we see the recent correction as a good place to buy a few ounces. We also see a big opportunity to buy a certain precious metal that you've likely never considered before...
The precious metal we're talking about is platinum.
Part of the case for owning platinum is the familiar case for owning gold: World governments aren't solvent, and they're competing with each other to devalue their currencies. That's good for precious-metal prices in the long term.
But we like platinum in particular because of the supply-demand setup.
Platinum production
is falling in the world's biggest producer – South Africa. Producers in the country aren't earning enough money to cover basic expenses. This situation curtails production... which will push up prices.
Unlike gold, there isn't a large above-ground supply of platinum. Most platinum production is consumed by industry (much of it in smog-reducing catalytic converters). Meanwhile, both developed and developing countries are putting stricter emissions standards in place... And that's increasing demand.
It's not too late to make this trade, though. Like most commodities, platinum has suffered a big fall from its 2011 highs. Right now, it trades near four-year lows.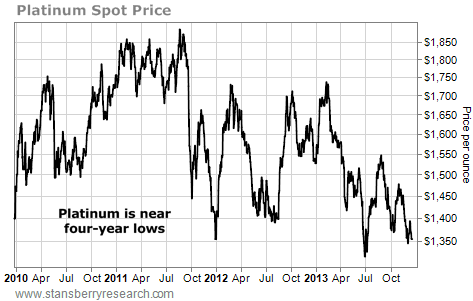 Some folks might want to trade this idea with a purchase of platinum mining stocks… But the world of pure platinum miners is small... and full of "less than exceptional" businesses. You face the risks of worker strikes, mine accidents, political lunacy, and rising input costs.
In sum, a position in physical platinum works as a hedge against a drop in the value of "paper money." Plus, the platinum market is vulnerable to a major supply shock. That could send prices higher, even if a monetary crisis never arrives.
That's why we believe it makes sense to take a position in platinum right now.
Good investing,
Brian Hunt