If you're a U.S. investor, you're making a big mistake… Even the experts are making this mistake.
I'm talking about "home-country bias" – the idea that most investors have way too much money allocated to their native country.
And today, I'm going to share a simple "one click" way to get you started fixing it.
According to Vanguard, U.S. investors put an average of about 70% of their stock market money into U.S. companies. But as my friend and colleague Meb Faber showed in
his book Global Value
, U.S. stocks make up only 46% of the world's market cap and the U.S. makes up only 19% of the world's gross domestic product.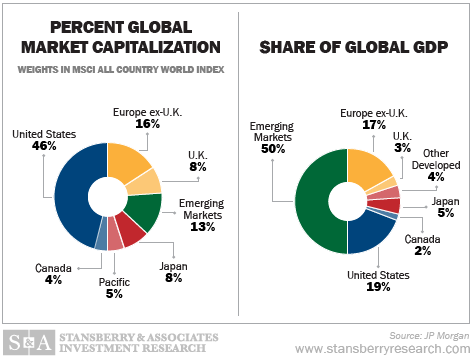 Plus, if you're a U.S. citizen, you likely have a job, property, and other interests in the country. However you measure it, it's likely you have too many eggs in one basket.
And that's particularly true right now…
Take a look at the chart below. It compares the
"CAPE" ratio of the U.S.
to the world's average, the most expensive countries, and the least expensive countries. As you can see, the U.S. is on the expensive side.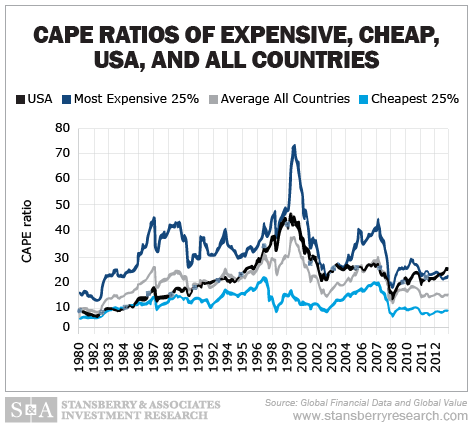 I'm not saying U.S. stocks are in a bubble. I'm still finding good opportunities. But now is a good time to consider re-allocating some of the capital you have in U.S. stocks to other, cheaper countries.
One of the easiest ways to do this is with Meb's Cambria Foreign Shareholder Yield Fund (FYLD).
FYLD holds about 100 stocks in non-U.S. developed countries. It has large weightings in Europe, Canada, and Japan. It focuses on companies that have a history of rewarding shareholders with dividends and buybacks. And it screens for good values and positive price action. (You can learn more about it
right here
.)
The fund just launched in December, but you can see that since inception, it has beaten the S&P 500.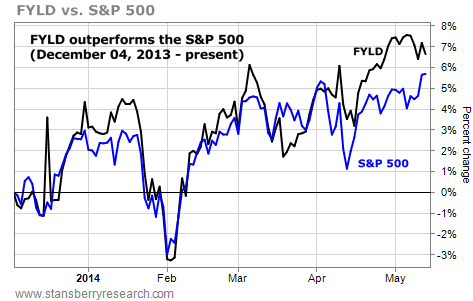 FYLD's holdings offer better value and more income than the U.S. market, too. Take a look:
| | | |
| --- | --- | --- |
| Average Valuation | FYLD | S&P 500 |
| Price-to-earnings (P/E) | 15.6 | 17.4 |
| Price-to-book value (P/B) | 1.3 | 2.6 |
| Price-to-sales (P/S) | 0.7 | 2.0 |
| Dividend yield | 4.8% | 2.0% |

The fund's average price-to-book value of 1.3 is half as much as the S&P 500… Its price-to-sales ratio is only about one-third of the S&P 500… And with a yield of 4.8%, it offers more than twice as much income as U.S. stocks right now.
With its focus on shareholder yield and on cheaper developed markets, we expect FYLD to continue to outperform U.S. stocks. Depending on global market volatility, you could see double-digit annual returns for years to come.
And if you're a U.S. investor, it's probably time for you to start lightening up on your home-country allocation.
Foreign markets are a better value right now. And FYLD is a high-income way to put your money to work abroad.
­Good investing,
Amber Lee Mason