It's a terrifying thought for investors...
In its efforts to stimulate the economy, the Federal Reserve goes too far... creates too much credit... and a big inflation crushes stock and bond prices. Retirement is ruined.
Over the past five years, this worry has caused many people to miss out on terrific returns in stocks and bonds. During this time, I've reminded readers of Retirement Millionaire about the facts on inflation... and why it hasn't been a concern.
We've made huge returns as a result.
As I'll show you below, the gains aren't close to being over... and inflation still shouldn't be a concern for investors right now...
While it's a good idea to monitor the latest inflation statistics each month (like we do in my Income Intelligence newsletter), it pays to check in on a timeline of inflation stats to see where we are in the cycle.
Remember, a long-term comfortable level of inflation is about 2%. But there are a few ways to measure it.
The most popular measure is the core Consumer Price Index (CPI), which excludes energy and food prices. That's important, since the prices of those commodities are so volatile right now that including them can cause some wild readings. The CPI rose above 2% for a touch in 2011, then fell again. For the past year, it looked like it was rising, but recently lost its momentum.
The Personal Consumption Expenditure Index (PCE) is the Fed's preferred measure of inflation and it does a better job of tracking an actual consumer's exposure to prices. That's signaling an even lower level of inflation. It, too, was starting to rise earlier this year, before leveling off in recent months. Take a look: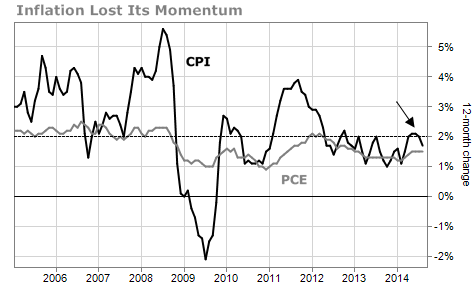 As you can see, inflation is no concern right now. That means we'll continue to see very favorable credit conditions. Businesses will be able to borrow cheap money. Consumers won't be rocked by high interest rates.
The boogeyman of inflation is nowhere to be seen... so don't get scared out of solid investments.
Here's to our health, wealth, and a great retirement,
Dr. David Eifrig