Greece is in crisis mode right now...
The country just reached another bailout with the European Union. But all they bought is time – another four months. Their problems of excessive debt and a weak economy are far from fixed.
The crisis continues. And longtime readers know we love a good crisis.
In a crisis, you can often get in at record-low prices, after everyone has given up on an idea. It's often the toughest, but most profitable, time to buy.
Surprisingly, that's NOT where Greece is today, as I'll show. And this is a crisis you shouldn't invest in.
Let me explain...
Despite the negative headlines, U.S. investors are pouring into Greek stocks right now. Instead of giving up, they're wildly optimistic.
One easy way to see this is through the shares outstanding of the major Greek stock fund... the Global X FTSE Greece 20 Fund (GREK).
Exchange-traded funds (ETFs) like GREK create and liquidate shares based on demand. The total shares outstanding fluctuate depending on whether more investors are buying or selling. So a rising share count shows investors are interested... That they're buying.
The chart below shows just how extreme the interest in Greek stocks has become...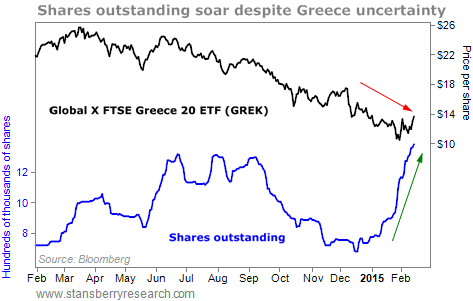 Since peaking in March 2014, GREK is down 50%. But that hasn't kept investors away. Shares outstanding have doubled in just the past two months!
U.S. investors are lining up to own Greek stocks. That reminds me of the situation in Russia a few months back...
In November
, I told you why I wasn't interested in Russian stocks despite ultra-low valuations. Despite the chaos in Russian stocks and the decline of the ruble, investors were pouring in. I said that was the wrong call. And Russian stocks fell as much as 35% after that warning.
Now Greece is in a similar situation. The political and economic landscape is a mess. And investors should be scared to death. But instead, they're lining up to buy.
Like I said in November, you want to avoid a market where the locals are apathetic but the foreigners are piling in.
That is what's happening in Greece right now. U.S. investors are pouring in as the market crashes.
I could be wrong, of course. Greece could soar from here. But this is a bearish sign. And the potential risk is not worth the potential reward.
Greece is a crisis I have no interest in buying. I suggest you don't either.
Good investing,
Steve