"Steve you've been telling me to buy gold for years now... I'm finally ready to listen. What do you think is the best buy right now?"
I hear this all the time.
Right now, I think that shares in gold miners are pretty cheap... But I think rare gold coins are super cheap. Before you dismiss the idea, please consider this:
| | |
| --- | --- |
| 1. | You have very little downside. |
Rare gold coins are so cheap right now they now trade close to their meltdown value! "Meltdown value" is just the value of the actual gold in the coin. It's like you get its rarity, history, and pristine condition for free.
| | |
| --- | --- |
| 2. | You have incredible upside potential. |
In the last great bull market in coins, the coin that I consider the "benchmark" rare gold coin traded for 900% above the price of an ounce of gold. Today, the premium is less than 100%.
If it rises to reach its previous premium to the price of gold, the coin would sell for about $9,500. Yet today, the coin is closer to $1,700 – less than two times its melt value. (The "benchmark" rare coin I'm talking about is the Saint-Gaudens in mint [MS65] condition. It contains a little less than an ounce of gold.)

Okay... so you have very little downside risk, as the coin actually has nearly an ounce of gold in it, and you have incredible upside potential, as the coins are the cheapest they've ever been relative to the price of gold. Can you see the value here?
Not Much Down Side From Here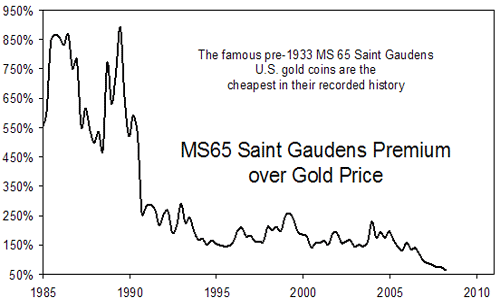 Even better, when the price of gold starts to soar, rare gold coins generally catch fire... They can, and have, soared more than tenfold in previous coin bull markets. As gold is hot, we should be entering a gold coin bull market soon.
While these coins have done well in the past few years, they haven't kept up with the jump in the price of gold yet. You can see the big lag in the chart below.
MS65 Saints vs The Price of Gold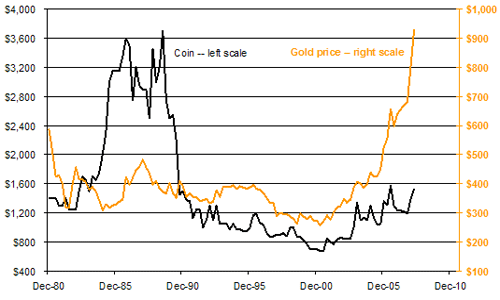 The next questions people ask is: "Isn't it hard to buy coins? What do I buy?"
The mint (MS65) Saints Gaudens are a great place to start. They're like the Microsoft or Exxon of rare gold coins... They're rare enough that they're valuable... but they're common enough that they trade easily and the buy-sell spread is reasonable. They're a great value now, as the charts show. And it doesn't hurt that they're beautiful as well!
I strongly believe you'll make the most money in the coming the bull market by owning rarer (meaning more expensive) gold coins. But then you lose your safety cushion of being close to meltdown value. Anyway...
As for how to buy 'em, it's easy... Have you ever ordered something over the phone? This is essentially no different... You send in money, and your coins arrive a few days later.
Dealers I've dealt with for years include: www.davidhall.com, www.amergold.com, and www.assetstrategies.com. (I get no compensation for mentioning them, of course. My only "compensation" is that they take good care of my subscribers.)
I strongly, strongly, strongly urge you to stick with dealers I've dealt with for years. The coin business is unregulated, and some bad characters out there will sell you a $500 coin for $5,000. Happens every day, unfortunately.
You can learn more than you ever wanted to know about coins here. But I'm comfortable enough with the above dealers that I think you can just call them up, and they'll get you great rare gold coins at great prices.
Once again, you have very little downside risk, as rare gold coins are trading closer than ever to melt value. And you have incredible upside potential... literally many times your money, if past gold bull markets are any indication. So get started now... and get in early... before your neighbor does. You'll be glad you did!
Good investing,
Steve