Three months ago, everybody hated the U.S. dollar...
The consensus was near unanimous. Investors were certain the dollar was doomed.
Where did investors put their money to avoid the certainly-doomed U.S. dollar? In euros...
We did the exact opposite... In my newsletter True Wealth, we bet against the euro in a very safe way. Readers are now up about 10% in three months.
But what's this? We're seeing a completely different situation today from what we saw three months ago...
Investors now HATE the euro. And they (surprisingly) love the U.S. dollar. Investors have bought dollars and short-sold euros in record amounts (even more so than a month ago). Take a look at how far the euro index has fallen since late November...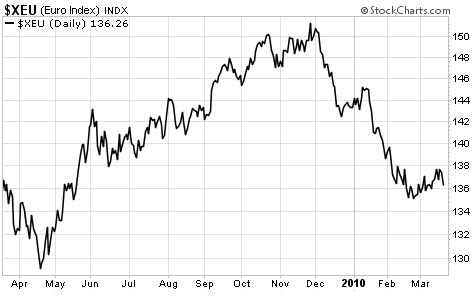 The extreme we're seeing is typical of turning points in a currency's trend. So I fully expect the euro to have a violent bounce to kick out all these short-term traders. The euro has already ticked up above its bottom in February.
Most people trade currencies with a huge amount of leverage. A couple-percentage-point move could wipe them out completely. And I expect it will.
So is it time for us to abandon our trade in True Wealth? This is a fantastic question...
It all comes down to your timeframe and risk.
If you're a short-term trader, trading with a lot of leverage, you need to get out of the trade now. The cards are stacked against you. Too many people are betting against the euro... They could kick off a violent rally in the euro as they try to get out of positions that are going against them. So I wouldn't fault you if you took the three-month 10% gain.
But if you have a longer-term perspective and you are not wildly leveraged – which is where we are in True Wealth – then you can just ride it out. A couple-percentage-point move is just a setback. (I could also be completely wrong about a violent move up in the euro... The historical precedent isn't 100% here.)
My two cents on the euro situation right now is that heavily leveraged bets against the euro will get wiped out, and soon. Then the euro will be back on its downtrend.
Good investing,
Steve