Shares of Sino-Forest are up 100% in the last 12 months. Shares of Plum Creek Timber are at a 52-week high, and so are shares of forest-owner Pope Resources.
In just the last two months, each of these three stocks is up by double-digit percentage gains. These stocks have three things in common...
First, they're all timberland stocks. Second, they're all current recommendations of mine (in my newsletters True Wealth and Sjuggerud Confidential). And third, nobody is paying attention to them – which is actually what I love to see in an investment.

Take Plum Creek Timber, for example... $10,000 invested in Plum Creek's stock in 1989 (when it started trading) would be worth about $800,000 today, if you reinvested your dividends.Nobody is paying attention... but there's a stealth bull market going on in timberland stocks right now. It's actually been going on for a long time...
If you take a look at the chart, you can see these gains were made without too much volatility in the share price. It's exactly what you want to see...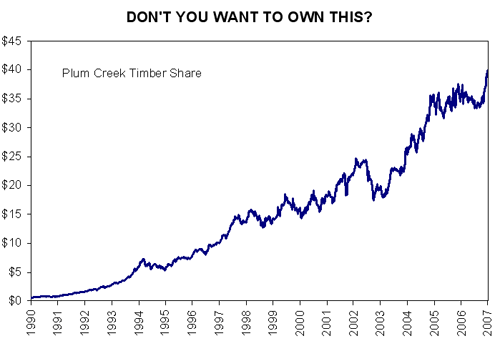 Nearly all the way up, Wall Street analysts have ignored the stock, rating it as either a "hold" or a "sell." It's the same way today.
It's not just Plum Creek... Timberland as an investment class has been extraordinary, beating the S&P 500 with less volatility. But nobody cares. Take a look at these returns:

Sources: www.ncreif.com since 1987, Sewall, and www.HTRG.com before that.
Plum Creek started with 1.4 million acres of land in the Northwestern U.S., which they bought from a Montana lumberman and a defunct railroad. The Seattle founders called their business "Plum Creek" after a river on the property.
Over the next few years, the Plum Creek men added hundreds of thousands of acres to their holdings in Maine, Arkansas, Louisiana, Florida, South Carolina, New Hampshire, and Michigan, among other places.
Plum Creek is now the largest private landowner in the America – 8.2 million acres in 18 states.
Each year, Plum Creek simply sells just a tiny portion of its assets. And it buys more when prices are low. The trees keep growing, and the money just keeps rolling in, year after year. The beauty of this operation is that it's set up to run this way indefinitely.
Why would you want to own a regular stock, when you could own an operation like Plum Creek instead? Plum Creek is safer, pays bigger dividends, and (literally) grows its assets, without fail, every single year.
Think about it this way: The trees keep growing exponentially, year after year. The trees and land don't care about the war in Iraq, an overvalued stock market, a big budget deficit, or anything else. They just keep growing. And if this year is a bad one for timber prices, Plum Creek can wait. The trees will be exponentially more valuable next year.
The trees keep growing every single year. And the land keeps getting more expensive. That's why Plum Creek is a perfect place to put your money for retirement.
You get paid a large dividend four times a year, and you can simply sit back worry-free, and watch the value of your investment go up over time.
This is as good as it gets in the investment world – a safe and conservative way to earn lots of income as you watch your wealth multiply over time.
To me, it's hard to beat timberland and timberland stocks like Plum Creek, and smaller ones that are even better bargains. If you haven't considered timberland yet, you ought to.