Editor's note:
If you'd like to learn more about investing in Japanese real estate, you can also read Steve's essay,
Six Reasons Why Japanese Real Estate Will Soar
.
It's official...
The stats came out today... for the first time in 16 years, Japanese real estate prices went up nationwide.
The biggest gains came in Tokyo commercial property – where prices were up by 9.4% in 2006. No surprise there...
Tokyo commercial property rose the most during the Japanese real estate bubble in the late 1980s. And prices in Tokyo fell the most during the bust. Commercial real estate prices in Tokyo fell by an astonishing 80% from their 1990 peak to their recent trough. Last year's 9.4% gain was exceptional. I believe there is much more to come...
Japan Land Prices Finally rising!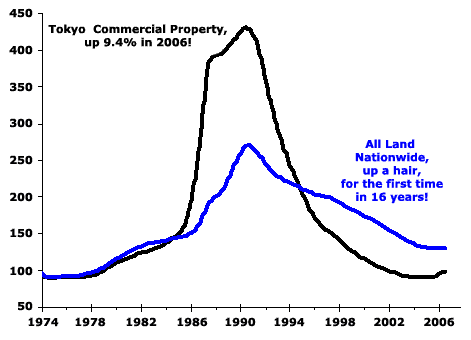 I spent a week in Tokyo recently, trying to find the best ways for foreigners to buy real estate there without having to get on a plane.
The market is hot. Based on rental yield alone, Tokyo properties don't look all that exciting. But Tokyo rents are incredibly cheap compared to London or New York. Rents have plenty of room to rise. And building values should climb along with rents.
So owning real estate there could put you in a good position – not only can your rental income increase, but the value of the properties you own could go up, too. I like the idea so much, I've been calling it "The 15-Year, One-Way Bet."
Just like the U.S., Japan has Real Estate Investment Trusts (REITs). These have been the most popular way to get into Japanese real estate. But most are expensive now – the shares have been bid up. J-REITs, as they're called, have tripled in value since 2001.
I found a few different ways to invest that I think are much better deals...
In my newsletter Sjuggerud Confidential, I shared with readers a few "back door" plays into Japan – two trading in Australia and one in London. These all currently trade at discounts to the Japanese real estate assets they own and are great buys. But these plays are smaller and foreign, so I couldn't recommend them in my newsletter True Wealth.
So, we're playing it in True Wealth an entirely different way. I worked with a U.S. financial institution to give my readers a way to buy intoJapanese real estate with no downside risk whatsoever... That's right... for the next three-and-a-half years, you'll get all the gains of Japanese real estate – but your initial investment is guaranteed. Your worst-case return is getting your initial investment back. Yes, no downside risk and unlimited upside potential.
However you play it, you ought to get in on it now. While I was over there, I met with many big Japanese real estate firms, and big foreign investors are everywhere, looking to buy.
Since we're smaller investors, we can beat them there – and I believe the ideas in my newsletters will be the very best ways to do it. (If you are a reader of Sjuggerud Confidential, I highly recommend you get into our London-traded play now – Just letting you know in advance, I will raise my "buy up to" price in the upcoming issue of Sjuggerud Confidential.)