In his professional life, Thomas Lewis has one goal... producing dividends every single month.
Some companies produce shoes. Some companies produce golf balls. Some companies build houses. Lewis' company produces monthly dividends. It operates under the trademark "The Monthly Dividend Company." No joke. Every breath, flinch, twitch, or blink management makes is geared toward paying bigger dividends to shareholders.
And Lewis' single-minded obsession is paying off: Last year, shareholders made 34.8%. Since the company listed on the NYSE in 1994, shareholders have made an average total return of 29% a year.
There isn't another stock in America – or even the world – like this. As I'll show you, this is the ultimate income investment. You shouldn't invest another penny in high-yield stocks until you've considered The Monthly Dividend Company...
Here's how this business works. The MDC buys property from convenience stores, gas stations, and fast-food restaurants. It then leases this property back to store operators through long-term contracts. The retail chains get a cash-injection to grow their businesses. The MDC gets the property and a 9% rental yield. That's it. It's a very simple model. In the industry, this arrangement is called a "sale-leaseback." But you and I can think of the MDC as a retail landlord.
This isn't the Cape Cod vacation-rental business. The MDC seeks retailers to occupy its properties and pay rent for 15 to 20 years at a clip. Selecting the right retail chain is the first step... and definitely the most important.
The MDC invests primarily in retailers that provide basic human needs... such as cheap food, gas, or auto repairs. These businesses are the last to suffer in a recession... and they help the MDC maintain its stable dividend payouts. The MDC does not put more than 20% of its portfolio in any one industry or more than 10% of its portfolio in a single retail chain.
And another thing, the MDC is set up as a REIT, so it pays no corporate tax as long as it distributes all its profits back to shareholders each year in dividends. And no company has ever approached its dividend payments the way the MDC does.
Take its annual reports, for example. The company releases the most investor friendly reports around. The CEO writes his letters to shareholders in plain English. The reports present statistics with simple graphics. And the business? It's so easy to understand, analyzing this company felt like an afternoon with the Sunday paper.
The theme of the 2006 report is "Monthly Dividend Land." Each section takes you through an imaginary world where you "accumulate shares at every twist and turn on the road that leads to monthly dividends for life."
In his summary of 2006 results, Lewis writes: "Our most important accomplishment is that we were able to pay 12 monthly dividends and increase the dividend five times during 2006."
This company's corporate quest is to provide dividend income for its owners. "This philosophy colors every decision the company makes, dollar it spends, management discussions, and all of the employees' activities undertaken each day," says the COO.
I've never seen a company with such total dedication to its dividend. But do these guys walk the walk? You bet they do...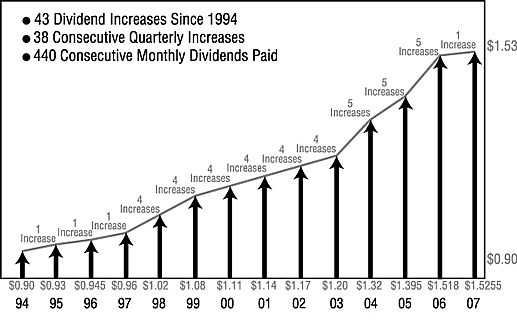 The Monthly Dividend Company is in its 37th year of business. As of May 11, 2007, The Monthly Dividend Company had paid 440 consecutive monthly dividends and 38 consecutive quarterly dividend increases. The annual dividend has grown from $0.90 in 1994 to $1.53.
Here's what some current shareholders had to say about their company:
"I've owned this stock since 1998. I can't imagine selling it. My original shares pay a 15% dividend and have risen 175%. That's better than 20% per year."
The Monthly Dividend Company has an official name and stock symbol on the NYSE. In tomorrow's column, I will reveal more about the MDC's operation, its stock symbol, and what we can learn from its approach to investing. Until then...
Good investing,
Tom