The Junggar could become one of the largest hydrocarbon deposits ever found. Even better, China has gone "oil crazy."
With around 1.3 billion citizens, China is the most populous country in the world. It owns the world's largest cash hoard... and has the world's fastest-growing large economy. This makes it desperate for deposits like the Junggar.
According to the International Energy Agency, China will be the world's largest consumer of energy by the end of this year. In one week alone last year, China spent $41 billion securing oil supplies from all over the world. All told, it imported more than $240 million worth of oil per day. And demand is only growing. A big reason is cars...
Last year, the Chinese bought 13 million new cars – more than a 50% increase over 2008 sales. This total makes it the largest car market in the world. These cars will consume lots of oil and gas.
Also consider the thousands of power-hungry factories churning out tons of steel, concrete, and glass for China's booming cities, infrastructure projects, and 10%-plus GDP growth.
Energy consumption mirrors economic growth. From 1997 to 2007, China's total energy consumption doubled from 38 quadrillion British thermal units (Btu) to 76 quadrillion Btu. That's like adding the energy consumption of California every two years.
Securing sufficient, reliable energy sources is probably the single greatest factor in determining whether China continues its great rise.
This makes reliable energy sources – like coal, oil, and natural gas – the most important assets in the world... assets China will spend whatever it takes to get.
Today, China's energy budget is skewed toward coal. That fuel darkens the skies with soot and poisons China's people with real toxins. In 2008, natural gas made up just 4% of China's total energy supply. China plans to double its natural gas production at home to 5.6 trillion cubic feet in the next five years. That's an ambitious plan and will require enormous investment in the energy sector... especially in shales.
Enter this massive new shale discovery – the Junggar Basin – right within China's borders.
Yesterday, I told you the Junggar Basin was much larger than America's massive Piceance Basin. Below is a graphic of just how much larger, in square miles, the Junggar is than the Piceance: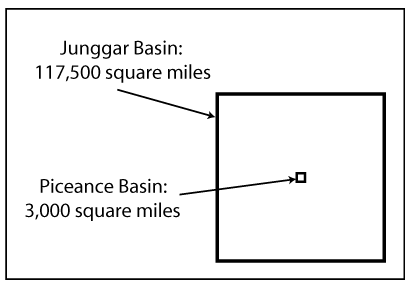 You need to understand two things about the shale in the Junggar Basin and China in general. First, these shale plays are in their infant stages. We know there's potential, but they aren't developed.
China has historically ignored oil and gas from shale and focused on conventional sources. But its national oil companies have turned their attention to it now. PetroChina estimates the country has more than 1.6 quadrillion cubic feet of natural gas in its shales – more than Russia's proven reserves in 2008. That gas will likely contribute 25% of the country's natural gas production by 2030... but that's 20 years from now.
Second, you need to know that because China has focused on conventional oil sources, it has none of the technological expertise that enabled America to massively expand its natural gas production.
China's lag in technical innovation is a particular problem when it comes to tapping shale basins like Junggar. Extracting gas from these rock formations is a high-tech proposition. It's nothing like sticking a straw in the ground in Texas and watching oil shoot out.
How much will China spend to meet its energy needs – in particular, how much will it spend on shale basins like the Junggar? We can't know for sure. It's too early in the game. But I can say that China is desperate to find more energy resources. I can say it will spend whatever it takes to get them.
Over the long term, this trend is super bullish for companies that supply technological expertise, like Halliburton (HAL), Schlumberger (SLB), or the companies in the PowerShares Oil Services Fund (PXJ). As China's energy needs grow, so will contracts for companies with the expertise the country lacks.
Good investing,
Matt Badiali