Matt Badiali's readers just locked in an astounding 339% profit on Jinshan Gold Mines earlier this week... It's a stock he recommended less than a year ago.
How can you rack up such enormous gains? Matt explained it to me yesterday, as he sat in my office...
"The other mining stock analysts out there set price targets for their recommendations – and once the stock hits their price target, they get out. The thing is... you need to have the courage to stay in there when you're right."
Dr. Richard Smith was in my office at the same time, and he fully agreed. Richard has a PhD in math and has made a business of helping investors determine the optimal time to sell to maximize your returns. He said:
"Staying with your winners is the real key. You just get a few big trades in your lifetime... How you handle those few trades determines whether you'll have ordinary results or extraordinary gains."
Matt's trade in Jinshan is a classic example of sticking with your winners and then using a trailing stop to cut you out of the trade at the right time.
The chart on this page shows exactly what I mean. The black line is the share price of Jinshan Gold Mines. The blue line is Matt's trailing stop: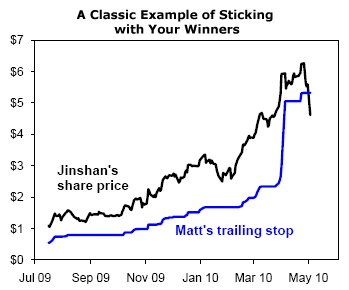 The idea of using trailing stops to exit is simple. Let's use a 25% trailing stop as an example...
If you buy a stock at $10, your 25% stop is $7.50. If it closes below $7.50, you sell, no ifs, ands, or buts. If the stock rises to $20, your stop "trails" it, rising to $15 (that's 25% below $20). If the stock goes to $40, then your trailing stop is $30. It's a pretty simple idea.
In Matt's case, he set a 50% trailing stop to start. That's wider than I normally use. If a stock drops 50%, it has to double to get you back to break even. That's a lot to ask. But with small, super-volatile mining stocks – like the kind Matt recommends – his gives them more "room."
In short, Matt had the courage to be right. As you can see, as the stock went up, the trailing stop went up. And it let Matt's readers maximize their profits.
Setting a "target price" won't let you maximize your profits. You can't know today if a crazy bull market in gold will kick in tomorrow... if the price of gold will go up... or if the company will add to its reserves. But you can STAY IN THERE when things are going right.
Matt did it right. He rode Jinshan shares all the way up, for hundreds of percent profits. Then, even when the gains were getting ridiculous, he didn't cash out. He just tightened his stop to 15%.
He still couldn't know how much higher Jinshan would go. So he used a trailing stop to take his emotions out of the decision on when to exit.
Look... please understand this: A good trade is made up of a good entry AND a good exit. Most investors spend all their time getting the entry right... and spend no time on the exit.
If you use a trailing stop – I usually recommend a trailing stop of 25% – then you can hang in on big rallies, while still protecting your downside. And you'll dramatically increase your percentage chance of having a profitable portfolio.
As Richard explained, it's hard for people to cut their losses... but it's even harder for people to let their winners ride.
The thing is, if you want to make Jinshan-like 339% profits in less than a year, you have to be willing to stay with your winners. It really is as simple as that.
So how can you easily track your trailing stops, like Matt did on Jinshan?
Richard has actually developed a fantastic website to help you easily maintain all your
trailing stops
at TradeStops.com. It's a few bucks a month, with a 30-day free trial. Literally thousands of my
True Wealth
subscribers use TradeStops. (Just so you know, I don't get any compensation for mentioning it.)
It's worth it – it adds a solid exit strategy to your portfolio and helps you stay with your winners. These two things are invaluable. Check out TradeStops... and start letting your winners ride and using trailing stops as a fail-safe exit strategy.
Good investing,
Steve