We recently learned famous short-seller James Chanos has a short position in ExxonMobil...
If you've been reading DailyWealth for more than a few weeks, you've probably seen me write that Exxon is one of the world's greatest long-term investments. It's one of the world's best-run companies. It's the World Dominator oil producer. And it's a champion generator of cash.
That apparently isn't enough to persuade Chanos he's made a terrible mistake. So let's take a closer look at his arguments...
First, Chanos says Exxon is effectively in liquidation because it's not replacing its reserves of oil and gas.
Chanos is probably measuring absolute reserves, which peaked in 2004 and are roughly flat since 1999. But reserves per share is the better number for equity holders to focus on. Reserves per share have risen every year since 1999 except one (2008). Reserves per share have grown an average 4.7% a year. Take a look...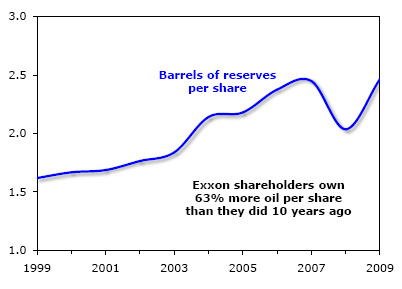 In 1999, Exxon had 1.62 barrels of reserves per share. At the end of 2009, it had 2.64 barrels per share. For each share of Exxon you hold, you now own 63% more oil than you did a decade ago.
Reserves per share have risen because Exxon has used its copious cash flows to buy back large amounts of stock. Knowing when to take capital off the table is a highly valuable skill, one few corporate managers understand. Exxon generates large amounts of cash, and management does a good job of deploying it to create shareholder value.
With the stock at $57, you're paying about $23.17 per barrel equivalent of reserves, and getting the company's refining capacity, chemical business, management, and other assets for free. Oh yeah, and let's not forget the 45 trillion cubic feet of natural gas equivalent reserves it just picked up in its acquisition of XTO Energy. Chanos is wrong about reserve growth.
Chanos' second complaint is that Exxon is borrowing money to pay its dividend. In 2009, the dividend did indeed exceed free cash flow – for the first time in 10 years. Since 1999, Exxon has generated $236 billion in free cash flow, just over three times the amount of dividends it's paid ($76 billion).
Exxon hasn't carried any net debt on its balance sheet since 2002. It has generated $236 billion in free cash flow since 1999 and paid $76 billion in dividends. Even if it were borrowing to pay a dividend, it can easily afford to do so. At the end of the March 2010 quarter,
Exxon's earnings
covered interest payments about 80 times over. No wonder Egan-Jones, the only credit-ratings agency I trust, rates Exxon double-A (meaning its credit quality is "very high").
I expect Exxon to continue paying its dividend. And I expect Exxon to continue repurchasing shares aggressively, especially since the stock is undervalued. I doubt Chanos' short position will last the year, and I doubt he'll make any money on it.
In my Extreme Value newsletter, we do our own research, make our own decisions, and stick to our guns until available evidence suggests new action. I understand it feels bad when a famous investor is short a stock you're long. But if you need a quick comeback when someone says, "Chanos is short," try this one on for size: Buffett is long.
Good investing,
Dan