True Wealth subscribers pocketed triple-digit profits... in a stock that did nothing.
How did they do it? I'll show you in just a minute. But it comes down to this:
Each of us is our own worst enemy – particularly when it comes to making money in the markets. We're either too greedy and we hang on too long, sometimes watching a big winner turn into a big loser... or we're too fearful and we sell once we see a tiny profit, completely missing out on a big winner.
Fortunately, there are a few simple "tricks" we can learn to prevent us from hurting ourselves. I'll share two tricks we use in
my True Wealth newsletter
and show you how they led to a triple-digit profit in a flat stock.
To avoid the big mistakes, we do two things in True Wealth:
We sell half our position once we're up 100%, letting the rest of the position "run."

We use a 25% "trailing stop."
These two rules force us to avoid two of the biggest mistakes investors make. These two big mistakes are 1) taking profits too early and 2) letting a small loss become a big loss. Our rules keep us in the money.
A good example of this in action is a True Wealth trade we made in shares of PetroChina. In April 2007, when we entered the trade, PetroChina traded around $113 per share. Today, PetroChina trades around $115. So in over three years, the stock has basically done nothing.
But here's how we traded it in True Wealth...
The stock soared soon after we bought it. Shares made it all the way up to over $250. We simply followed our rules. We sold half once we were up 100%. Then, the stock fell 25% (hitting our trailing stop). We sold the rest.
My readers made a fortune in PetroChina – a dead-money stock over the last three years – by following these two simple rules to keep us in the money.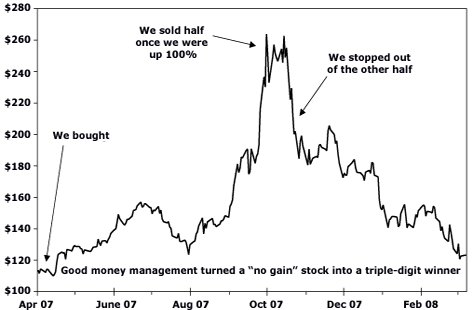 A great trade consists of a great buy and a great sell.
So tell me... what is your exit strategy for the investments you own? You don't have one? You're not alone... Most investors have no exit plan. But if you don't have a plan for when you'll sell, chances are great you'll make an emotional decision... and sell at exactly the wrong time.
Don't make that mistake.
Last night, I had dinner with my friend Dr. Richard Smith. Richard earned his PhD in math. More importantly for you, Richard developed a website that makes it incredibly easy for you to follow a rational exit plan.
You enter your stock symbol, the date you bought your stock, and set a
trailing stop on quote
. TradeStops automatically adjusts your trailing stops for you. Even better, it will send you an e-mail or a text message when your stock hits its trailing stop.
There are
three plans
that give you access to all kinds of alerts with custom exits... For example, if you want to exit when a price target is hit, you can do that. If you want to exit when you're up 100%, or when the stock crosses below a moving average... it's all possible.
The biggest mistakes individual investors make are 1) taking a profit too early and 2) letting a small loss become a big one.
Both of these problems happen when you don't have an exit strategy.
Waiting to sell half until you're up 100% is a great way to let your winners ride. And trailing stops are an incredibly effective exit strategy for limiting your losses.
To easily keep track of it all, check out my friend Richard Smith's simple service,
TradeStops
.
Good investing,
Steve