By now, just about everyone in America has heard of the huge "unconventional" natural gas boom we've enjoyed in this country.
Earlier this decade, people were worried the U.S. was running out of natural gas... a vital commodity we use to produce chemicals, heat our homes, and generate electricity. From 1980 to 1999, domestic natural gas reserves fell 18%. Production only grew 1% a year on average. In short, we were pumping out more than we were finding... for nearly two decades.
Then, about 10 years ago, two incredible technologies entered the industry in a big way: Hydraulic fracturing and horizontal drilling. Through the use of these technologies, we've learned that the U.S. sits on top of an incredible amount of natural gas. We've gone from dwindling reserves and plans to import gas... to boasting the world's second-largest hoard of the stuff, just behind Russia. You want energy security? You want natural gas.
The Barnett Shale Field, for example, is a monstrous rock layer (more on this in a moment) that sits thousands of feet below the surface of northern Texas. During the 2000s, this field went from an interesting geologic formation to what is believed to be the largest natural gas field in the United States. This sort of find produces incredible stock gains.
Consider Chesapeake Energy, which helped pioneer new drilling in the Barnett. Shares in Chesapeake traded for around $2.50 in January 2000. Eight years later, as this Barnett bonanza was being "proved," Chesapeake shares soared nearly 1,400%. Range Resources, another small pioneer in the Barnett, gained more than 2,500% in the same time.
While it's always worth trying to find the next Chesapeake or Range Resources when a new commodity boom takes off, I'm going to show you today that for many investors, the "picks and shovels" plays on commodity booms are the right way to play them. Consider the case of a stock my S&A Resource Report readers have made great gains in: Carbo Ceramics (CRR).
Shale rock is thin layers of fine-grain sediment, stacked like pages in a book. There is nearly no "conductivity" in shale, which means fluids like oil and gas can't move through it. But shales are typically full of organic material and hold enormous amounts of oil and gas locked up inside.
In my college days, we learned shale was the oil and gas "kitchen," the source of the black gold we wanted to find. Some of the good stuff would migrate out into sand stones, where we could get it out. Other than thinking about them as source rocks, we ignored shale... until hydraulic fracturing opened our eyes.
Fracking is a process that uses high-pressure fluids to force the layers of shale apart. Carried in the fluid are tiny grains of "proppant" – sand or ceramic spheres – that hold the layers of shale open after the pressure from the fluid fades. It's the proppant that makes the whole technique work. You don't have proppant, the gas and oil doesn't flow.
As the global leader (37% market share) in proppant manufacturing, Carbo is a pure "picks and shovels" play on the ongoing natural gas boom. In 2005, Carbo's annual revenue totaled $231 million. In 2009, revenues totaled $342 million... a 48% increase in just four years.
And consider that
on my most recent trip to the Eagle Ford shale
, I heard reports that there's so much new demand for drilling and proppants, Carbo can't keep up with orders. This new demand allowed Carbo to report a whopping 61% quarterly revenue increase this week... and it has doubled the company's share price over the past 12 months...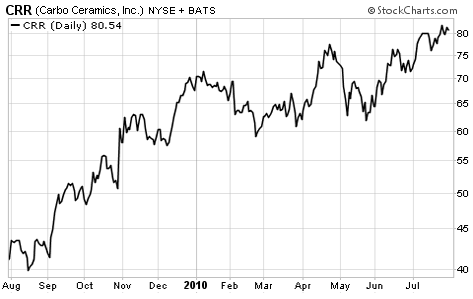 This story reveals one of the great secrets of resource investing...
Whenever you hear about a huge boom in a commodity... or in the case of U.S. natural gas, a huge boom in a special commodity sector... look around for the "picks and shovels" – the suppliers – that can profit from that sector. They're often the safe, "sleep at night" way to invest in that commodity. Look for a Carbo Ceramics.
Or look for a Transocean (RIG). When oil prices started rising in 2003, a global deepwater drilling boom began. Transocean, as the world leader in offshore drilling ships, climbed more than sevenfold during this boom.
Sure, owning tiny exploration companies can produce massive gains... if they hit it big. I own plenty of these types of companies myself. But they're incredibly volatile. For investors with less appetite for risk, when you think commodity boom, think picks and shovels... or in the case of energy, proppants and drills.
Good investing,
Matt Badiali