While most investors are fretting about unemployment and weak manufacturing reports, a bonanza is happening in one tiny area of the market...
It's an area that doesn't worry about manufacturing reports... and it hasn't been hampered at all by the 11% decline in stocks since May. It's an area that maybe one investor out of a thousand follows.
That area is "junior" gold stocks... and the returns this sector is generating right now are extraordinary.
These "junior golds" are the bloodhounds of the gold business. They are tiny companies (typically under $250 million market cap) that scour the world looking for the next big deposit of precious metals. When one of them finds a huge deposit, shares can absolutely skyrocket.
For example, in 2005, Esperanza Silver made an amazing discovery called San Luis. And with each hole the company drilled, it found more gold. Here's what happened to the stock...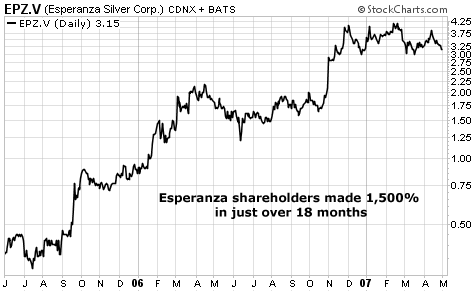 As you can see from the chart, shares of Esperanza soared from $0.25 in summer of 2005 to over $4.00 by early 2007. That's 1,500% in just over 18 months.
Believe it or not, this kind of climb happens often. A good discovery (gold or otherwise) blows the lid off these shares. Here are some other recent examples:
Ventana Gold went from $0.14 a share to $12.00 in 12 months.
Canplat jumped from $0.27 a share to $5.28 in six months.
Hathor rose from $0.47 a share to $4.34 in seven months.
Underworld Resources went from $0.13 a share to $2.64 in six months.
The junior gold industry exists because major mining companies do little of their own exploration. Big mining companies prefer to let thousands of these tiny companies do the work of looking for big deposits. Then they simply swoop in and buy the small company.
To give you an idea of the extreme difference in the size of juniors versus large miners, consider a junior gold stock with a $30 million market cap versus giant Newmont Mining, which sports a $30 billion market cap. Newmont is 1,000 times bigger.
For example, last October, I recommended buying shares of a tiny gold exploration firm called ATAC Resources to readers of Phase 1 Investor, a trading service produced by DailyWealth's publisher, Stansberry Research. ATAC has found a potentially huge gold deposit in Canada's Yukon Territory. Recent drill results have been positive. This news helped send ATAC up nearly 120% in the last month... and up 390% since my recommendation.
ATAC isn't an isolated case, either. Another gold stock we've held in the Phase 1 portfolio is tiny AuEx Ventures, a gold prospector like ATAC. A potential buyout sent AuEx shares up 80% last month. Many other junior golds are up 30% to 50% in the past few months.
These extraordinary gains are an example of what can happen when folks get just a little interested in this sector. As legendary mining speculator Doug Casey often points out, the gold stock sector is tiny compared to most other sectors... so if there's a big rush to own gold stocks, "it will be like trying to siphon the contents of the Hoover Dam through a garden hose." Since folks are interested in buying all things related to gold in general, the juniors are really flying, thanks to their small size.
I can't guarantee you these sorts of gains will continue all year. All I can say is gold is the strongest uptrend anywhere in the world right now. It's a trend that benefits from worries over government debt and the soundness of paper currencies. I can also tell you uptrends in gold stocks can last longer than most people would believe.
That's why I recommend all investors become interested in gold stocks right now – and stay interested in the coming years.
Good investing,
Matt Badiali