Knowing whether it's "risk on" or "risk off" is the single biggest factor in any trade you make right now...
If you're long risk right now, you're making money in the handful of assets we've been recommending in
DailyWealth
... like
coal
,
gold
, and
Hong Kong
. If you're not long risk, your portfolio isn't doing much.
So, are you trading with the belief that it's "risk on" or "risk off"?

The difference these beliefs will make to your wealth is extraordinary... as I'll show in a moment. But first, let me explain...
Stock and commodity traders can place one of two labels on any given trade.
One label is "risk on."
The "risk on" trade is where you place money into investments that will benefit from robust economic growth. You're willing to bet on riskier assets like Brazilian commodity producers... Chinese travel companies... copper miners... microcap oil companies... and tiny junior mining stocks. Actually, stocks and commodities in general qualify as "risk on" assets.
The "risk off" idea is where you'll pile into the U.S. dollar and U.S. bonds. While hating the dollar is a popular thing to do these days, it's still the world's reserve currency... It's an asset investors jump into when they get worried about recessions and depressions. For example, the dollar skyrocketed in the 2008 credit crisis when folks dumped stocks and commodities.
For the past two months, "risk on" has been the place to be. The benchmark S&P 500 is up 12%. The CRB commodity index is up the same amount. Mining stocks have skyrocketed. Emerging markets like Russia and India are up big. Oil has climbed from $73 to $84 per barrel.
What most folks don't realize is while all of these assets "sound" different, they are all the same bet. They all amount to "risk on."
For example, below is a "performance chart" that tracks the movement in the S&P 500 index (blue line) versus the performance of crude oil (black line) over the past 12 months. As you can see, they are trading in the same pattern, according to changes in investor sentiment toward global economic growth.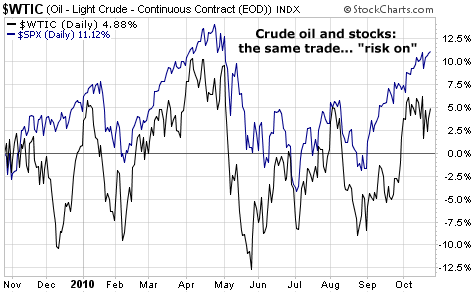 Because of the tight correlation in stocks and commodities like oil, knowing whether it's "risk on" or "risk off" is the single biggest factor in your trading success.
We believe the correct "big picture" trade is to say it's "risk on"... to take Ben Bernanke at his word and bet on the government printing money to prop up asset prices.
While this trade is due for a break in the short-term, we'd use any weakness to pick up more "risk on" assets in the coming months. You'll know when the "risk on" trade is off with a simple trailing stop.
Good investing,
Brian