I still think this "fund' is a great place to invest… especially for folks looking to protect their assets against a declining U.S. dollar.
The "fund" is one of the world's most diversified energy companies, ConocoPhillips (COP). If you're interested in a dollar hedge and large dividends, you should know what's going on with one of Buffett's favorite stocks…
With a market cap of around $90 billion, ConocoPhillips is one of the largest companies in America. And with a current dividend yield of 3.5%, it's one of the highest dividend paying companies in America. But what you probably don't realize is ConocoPhillips' balance sheet contains a powerful "escape the dollar" component. The company holds assets all over the world…
As you can see from the chart below, just 43% of ConocoPhillips' assets are in the U.S. The majority are outside the U.S.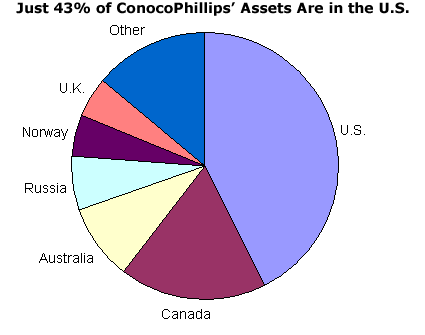 Even more impressive from an international point of view is that ConocoPhillips generated 73% of its income outside the U.S. last year.
By many measures, ConocoPhillips is cheap right now. We can buy the company for just 5.8 times operating cash flow; just four times earnings before interest, taxes, depreciation, and amortization (EBITDA); or just $9 per barrel of reserves.
| | |
| --- | --- |
| Market Cap | $91.9 billion |
| Operating Cash Flow (trailing 12 months) | $15.9 billion |
| EBITDA (trailing 12 months) | $22.5 billion |
| Reserves (barrels of oil equivalent) | 10.3 billion |
In 2010, ConocoPhillips paid out 88% more cash to shareholders than it did in 2005 – about $3.2 billion. And it has increased its dividend every year for the past five years by an average 12% per year.
When it comes down to it, many oil companies will give you the sort of dollar hedge that ConocoPhillips does. ExxonMobil (XOM) is another great idea here… along with Canadian oil sand producer Suncor Energy (SU).
What's important to remember is that when the dollar falls, the nominal value of oil rises… which produces larger dividends for you as a shareholder.
If you're concerned about the dollar and inflation, keep this idea in mind. This is one of Warren Buffett's great "escape the dollar" secrets… and it's out there for all to see.

Good investing,
Matt Badiali