Today, I'm going to present to you an incredible tool for earning high rates of income in the resource sector.
It is simple, effective, and throwing off lots of cash right now...
Best of all, most of my colleagues will laugh at it.
The idea is using "common sense" charting to set yourself up for safe annual income payments that can go over 6%-7%.
You see, technical analysis (or chart reading) is one of the most controversial topics in all of finance. Some folks swear it's the source of endless stock and commodity profits. Some swear it's like using tea leaves to make decisions with your money.
I'm in the middle. I've seen hundreds of technical charting ideas marketed as money machines... only to be revealed as no better than flipping a coin. But I've also used charts to make some of the biggest winning trades of my career. And many legendary traders have built their fortunes with help from technical analysis (like
Market Wizards
Paul Tudor Jones
and
Vic Sperandeo
).
When it comes to studying charts, I use "common sense" tools that I can explain to a fifth-grader in two minutes... One of the most powerful "common sense" ideas in all of technical analysis is the idea of buying assets that have been clobbered, hit a price floor, and spent time drifting sideways.
This "buy after the fall" strategy gets you into assets that have little risk. Sentiment and prices are as low as they can get. Everyone who's going to sell has already sold. In just the past few years, we've highlighted super "buy after the fall" winners in
gold stocks
,
uranium stocks
, and
offshore drillers
.
This is the idea behind collecting steady income in the natural gas sector right now...
If you've been reading
DailyWealth
for a while, you know how new drilling technologies have brought the United States
tremendous new supplies of natural gas
. This supply surge caused a huge crash in natural gas prices from 2008 to 2009. Prices fell about 75%.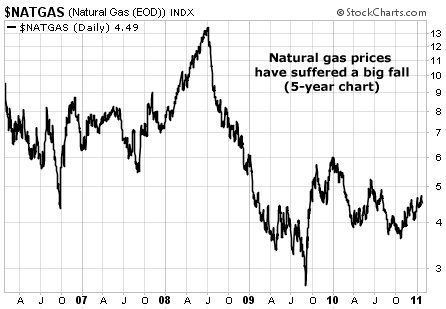 Here's where our common sense "buy after the storm" strategy comes into play...
Note how natural gas struck a bottom in the $3 range... and has been stuck in the $3.50-$4.00 range for more than a year. At these prices, a lot of natural gas producers simply won't produce gas. They can't make money. That creates a solid "price floor." At $3-$4, most of the downside risk has been "wrung out" of natural gas.
Here's the thing: A potential pitfall in buying an asset that is in a long sideways price base like natural gas is that these bases can last for a long time. If you invest in a vehicle that depends on rising prices, you can end up holding onto a "dead money" position for a long time.
In these cases, we like to buy positions that manage to throw off large dividends or distributions even when prices are low. So when it comes to natural gas, we're focusing on a small class of assets called royalty trusts. The great thing about some of these trusts is their production costs are low enough that they can pay shareholders healthy distributions even when natural gas prices are as low as they are today. They've paid the contrarian investor to wait.
We can see from the chart above that the risk has been "wrung out" of natural gas. And we've found even with prices at blown out levels, we can collect steady distributions in the 6%-7% area.
Sure... some of my colleagues will laugh at using a price chart to help with investment decisions. It's not "sophisticated" enough for them. But this sort of charting is really just using common sense to spot a big fundamental story. It "just works." And in this case, it's worked for months and months... for fat monthly distribution payments in a hated commodity.
Good investing,
Brian Hunt