In my new trading service, called True Wealth Systems, we have two simple strategies we use for buying gold...
Both systems make intuitive sense. And both are saying "buy" right now. (To be completely accurate, True Wealth Systems issues monthly signals. So as of the end of June, both were saying "buy.")
Historically speaking, when both strategies say buy, your wealth compounds at an annualized rate of over 50% a year, going back 40 years, if you invest in a double-long gold fund.
| | | |
| --- | --- | --- |
| | Annualized Gain | Time In Buy Mode |
| Trend system | 31.6% | 56.2% |
| Currencies system | 41.5% | 32.4% |
| Both systems | 50.4% | 25.6% |
The trend system is simple: You own gold when its long-term trend is up. There are plenty of different ways to define the long-term trend in gold. But it's currently still "up." So our first simple system says "buy."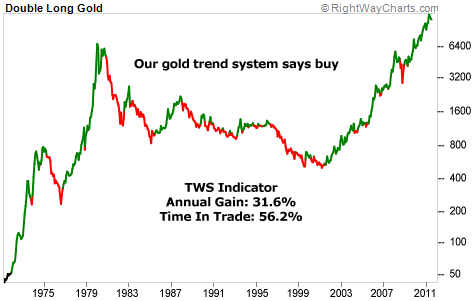 Our second system is based on a simple idea about currencies. The idea is, it's a REAL bull market in gold if the price of gold is up in terms of all four major currencies – the dollar, the euro, the Japanese yen, and the British pound. So if gold is up from the previous month in all four currencies, you buy gold for the next month.
This currencies system – where gold has to go up versus all four currencies – is a tough standard for gold to beat every month. So you're only "in the system" about one-third of the time. But it beats our simple trend system.
(If you're interested in the specifics: To smooth out the monthly fluctuations, we use the average gold price in each currency each month for our signal... But because you can't invest in average monthly prices, we have to use the closing prices of our double-long gold index to calculate our returns.)
By itself, each system is good... But you really want to be invested when both systems are firing.
Both systems are in "buy" mode only one-quarter of the time... and that's when you make the biggest gains. As of the end of June, BOTH SYSTEMS are firing right now... Both systems are in buy mode... So you want to own gold!
In True Wealth Systems, we buy gold with leverage...
We buy shares of the PowerShares DB Gold Double Long fund (NYSE: DGP).
Again, our double-long gold index has increased in value at a compound rate of over 50% a year when both of our gold indicators are in buy mode. Both indicators are in buy mode only about a quarter of the time... but they're both in buy mode now.
Own gold for the month of July... and based on the success of the True Wealth Systems indicators, consider owning it with leverage through DGP.
Good investing,
Steve