When you see a stock offering a 17% yield, you should almost always run the other way.
A high yield is often a dangerous trap. The dividend will be slashed soon...
Either the business is generating so much cash, it'll attract a flood of competition, which will drive down profit margins and thus dividend payments... Or the business is in decline and investors have sold off shares in anticipation of a dividend cut, which drives up the apparent yield.
Once the dividend cut comes, the share price declines even more. Any dividends you do receive will be peanuts compared to the big capital loss.
That's why "reaching for yield" is often one of the costliest, riskiest things you can do with your savings. And that's why I knew a headline I wrote last fall, "
How to Make 17% Income on the World's Safest Cheap Stocks
," sounded crazy. Such a big yield and the word "safety" almost never go together.
But that was the situation back then... and it still is now. Let me explain...
As we've pointed out many times in
DailyWealth
, big tech companies like Apple, Google, Intel, and Microsoft are
some of the greatest values in the market
. When you factor in their big cash hoards, many of these firms trade for less than 10 times earnings... which is absurdly cheap for a great business.
Microsoft, for example, is a huge, stable business with large profit margins. Many investors can't stand the stock because its fast-growth days are behind it.
But I'm like a lot of folks out there. I'm not interested in reaching for the moon right now. I'm more interested in a safe return of 10%-20%.
And
Microsoft is a safe investment here
. Just from a common sense technical analysis standpoint, you can see that Microsoft always enjoys buying support from investors when shares trade near $24 per share.
This is important: Microsoft may not rise 100% or 200% in the next year, but chances are very good that it won't go down.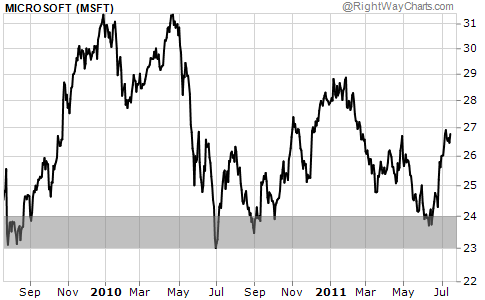 This situation is why the strategy I laid out last year is generating a great income stream with Microsoft. Anyone who has done it with Microsoft or a similar stock is generating annual income in the 10%-20% range.
The idea is to use the world's biggest, most stable technology companies as a "base" for a covered call program. In short, what you do is sell the bulk of a stock's upside for an instant, upfront payment. (I explain the full details
in this piece
.)
Back in October, you could make about 17% annualized with this super-safe trading strategy. And that's still the case.
When I look at most traditional income vehicles out there, like real estate stocks and bonds, I see too much risk for not enough reward. To generate substantial income on a portfolio, we have to get a little creative ...
If you're willing to try something new, consider this unusual "safe 17%" solution.
Good investing,
Brian Hunt