Since the beginning of May, the stock market is down 12%.
In other words, for every $10,000 you had "in the market" back in May, you now have $8,800.
But while most investors have seen their portfolios shrink, subscribers who have followed my unique stock system have actually made money.
My subscribers – and (hopefully) regular DailyWealth readers – have loaded their stock portfolios with the world's safest, most profitable stocks. They've loaded their portfolios with World Dominating Dividend Growers... and companies that "sell the basics."
If you haven't taken my advice to get off the stock market roller coaster... and into these safe investments, it's not too late. Today's chart might convince you...
Below is a chart that displays the performance of Abbott Labs (green line), Altria (red line), and Coca Cola (blue line) since mid-April. Each of these companies produces basic "recession proof" products like prescription drugs, cigarettes, and soda. Each of them pays out a relentlessly growing dividend.
These three stocks are either break even during this time... or have advanced a few percent.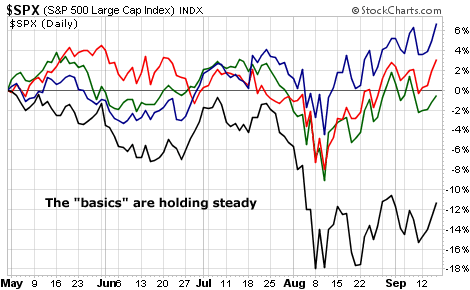 Now note the black line. This is the performance of the S&P 500 stock index. This index contains many of the biggest and best companies in the U.S. It even contains Abbott Labs, Altria, and Coke.
But it also contains lots of crappy businesses I'd never invest my hard-earned money in. For example, it holds many of the banks you hear about so much in the news – the ones that have billions of bad loans on their books.
The S&P 500 also contains an airline, steel companies, and homebuilders. These businesses are almost always deeply in debt and are prone to going bankrupt.
Worse, many of these companies don't pay a cent to their shareholders in dividends.
"Shareholders" in these companies are more like "bagholders." Wall Street banks see folks who own shares in these kinds of companies as an unsophisticated and constant source of fees.
When you "churn" your account – trading in and out of lousy stocks, chasing risky speculations, and falling for the next "good story" – you produce commissions for your broker. But when you own companies like Coca Cola and Altria, you simply sit back and cash dividend checks.
So considering that these world-champion, dividend-paying companies are available to investors, I can't understand why anyone would shortchange themselves by owning lots of volatile, deeply indebted, barely-profitable businesses. It's like choosing SPAM over filet mignon.
I don't know why anyone would listen to an advisor who tells them to own anything but the world's, best, safest, most profitable companies... companies with fat profit margins, high returns on equity, world-class brand names, enduring competitive advantages, and a history of treating shareholders well by paying out ever-increasing dividends.
If you're not interested in worrying about what "the market" is doing... if you're not interested in worrying about the latest crazy plan from Washington D.C... if, instead, you're simply interested in safely compounding your wealth... in short...
IF YOU'RE INTERESTED IN GETTING RICH IN STOCKS...
...then dominant dividend payers are the only stocks you should own.
Good investing,
Dan Ferris