You should consider buying gold stocks right now...
The opportunity is just too good to pass up. The last time these particular conditions came together, gold stocks rallied 121% in 12 months.
Let me explain the opportunity...
Typically, if gold goes up, gold stocks move even higher. And if gold goes down, gold stocks fall even more.
But during 2011, that relationship broke down. Take a look...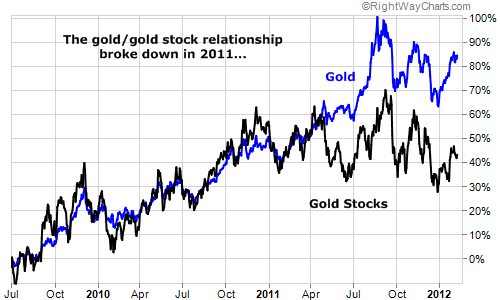 The chart shows the price of gold in blue and gold stocks in black. You can see that in 2009 and 2010, gold stocks performed as expected... They tracked the price of gold, but with more volatility.
But as you can see, that relationship fell apart in 2011... Last year, gold moved higher for the 11th straight year, gaining 10%. But gold stocks actually fell 16%.
Part of the reason was that gold stock investors were skeptical of the "good times." They didn't figure gold's price gains were sustainable. The other problem for gold stocks was that they're stocks. In a volatile market, when stocks in general are falling, gold stocks will fall, too... even if the gold price is rising.
Because
gold stocks
fell and gold rose last year, they are seriously cheap today...
We have two simple ways to track "value" in gold stocks. The first comes from legendary resource investor John Doody.
John's track record speaks for itself. From 2001 to 2010, a portfolio of his picks gained 1,360%. The stock market returned just 15% during the same period.
In his Gold Stock Analyst newsletter, John tracks a simple "overvalued/undervalued" metric for gold stocks. As of the latest issue of his letter, John's measure shows gold stocks are 17% undervalued. We saw a similar reading in September. Back then, gold stocks jumped 20% in a few weeks.
Another simple way to size up gold stocks is through the ratio of gold to gold stocks. Take a look...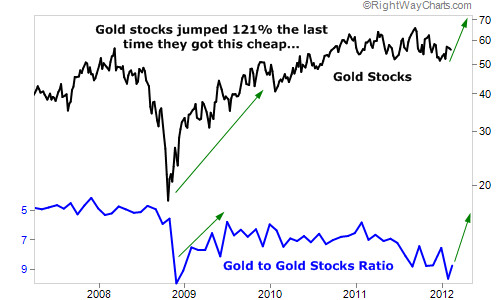 When the ratio of gold/gold stocks is low, gold stocks are cheap compared to the price of gold.
Right now, gold stocks are bouncing off one of their lowest valuation levels ever. The only time gold stocks have been cheaper based on this ratio was late 2008. Back then, shares of GDX (the big gold-stock fund) jumped 121% in 12 months.
Right now, gold stocks are near-record cheap. And it looks like they're starting to once again keep pace with the price of gold. So far this year, gold is up 11.4% and gold stocks are up 9.8%.
This is just the beginning. I expect there's much more to come.
Good investing,
Brett Eversole