A prediction I made early this year is turning out to be incredibly profitable for investors...
If you're worried about the European debt crisis... or a China slowdown... or anything else, it's important for you to know about this prediction... the idea behind it... and why the idea is working so well.
The idea is something I nicknamed "the dividend magnet."
You see... over the past few years, we've stressed the importance of dividends and high-quality stocks dozens of times in DailyWealth. We practically went to your house and made you buy them.
In a world full of risk and fraud, getting paid steady cash dividends is one of the market's best strategies.
This idea was "stress tested" in 2011. The broad market went through huge swings... and was crushed during the summer panic. Some riskier stocks fell 25%-50% in just a few months. But most of our favorite dividend-payers – like Coke, Abbott Labs, and Altria – held up just fine. (
Read about this phenomenon here
.)
This outperformance finally caught investors' attention. The big dividend-payers started to climb. And early this year, I wrote:
Dividends are sizing up to be this year's momentum trade...
Our guess is that, in 2012, more and more people recognize the safety and income-producing power of basic dividend-payers. With interest rates low, the fashionable thing on Wall Street will be for fund managers to say, "I own blue-chip dividend-payers."
This will send a flood of new money into these stocks. Corporate managers will see the share prices of dividend-payers rise... so they will hike payouts. This will create a "momentum" trade in dividends.
Wal-Mart was a prime candidate for the "dividend momentum" trade. The company has raised its dividend every year for the last 36 years. And its dividend has grown at an average of nearly 16% per year.
Since last August, Wal-Mart shares have gone from $50 to $67.50. Dividends included, shareholders are up nearly 40% over the last 10 months.
While the S&P 500 is up about 5% this year, Wal-Mart shares are up 14%.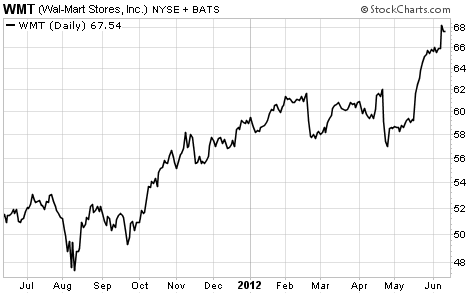 Wal-Mart's not the only one. Software giant Microsoft started paying a dividend in 2003 and has raised it nearly 30% per year ever since. It's up 13.7% so far this year.
Cigarette maker Philip Morris has raised its dividend every year since 2008, when it was spun off from Altria Group, which has one of the world's greatest dividend records. Shares are up nearly 10% this year.
Semiconductor dominator Intel has raised its dividend every year for the past eight years at a 32% annual clip. It's up 10% this year... and over 20% since last August.
And of course, we're seeing the same pattern with the big dividend-payers we checked in with during the last market correction.
Once again, while the broad market falters... and riskier stocks get crushed... Coke (blue line), Abbott (green), and Altria (red) are holding up just fine. Take a look...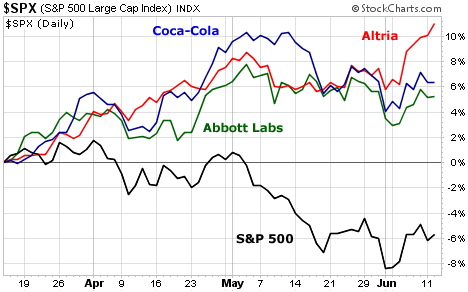 My friend and colleague Dan Ferris calls his favorite blue-chip, dividend-paying stocks "World Dominating Dividend Growers." He's noted how these stocks, bought at the right price, are so safe... so reliable... and pay out such steady and growing income streams, they should be considered their own asset class.
They are that much better than everything else... better than bonds... better than an index fund... even better than gold.
As an investment newsletter insider, I know one of the most frequent questions in the back of a reader's mind is, "Well, they say to do this thing, but what are they telling their friends and family to do? What are they actually doing with their own money?"
This idea... of buying the world's best businesses at good prices... and enjoying huge streams of safe income, is what knowledgeable insiders do with their own money.
With the world full of risks like the European debt crisis, more and more people are finally realizing these are the ultimate stocks to own.
These incredible blue chips are holding steady while shaky businesses struggle. And while this idea is getting more popular as my prediction proves true, this is a timeless wealth idea that will always work.
Good investing,
Brian Hunt