It's unbelievable... Today, we have a multi-decade opportunity in a completely ignored sector.
Today's opportunity is exactly what I look for in investments. It's cheap. It's hated. And right now, it's at the beginning of a new uptrend.
No one is interested in buying this particular asset today. And that has me very excited.
Best of all, based on history, we could easily make triple-digit returns, safely, in the next three years. Let me explain...
Today's opportunity comes from what is probably the safest, most "boring" business around... insurance.
There is NOTHING sexy about insurance. There's nothing to get investors excited about buying insurance-related companies. But that's a mistake.
There's a reason the world's greatest investor, Warren Buffett, built his Berkshire Hathaway empire around insurance. When done right, insurance is a safe business that gushes cash.
The insurance business is simple. These companies take in money today and agree to make potential payments in the future.
In the meantime, they're able to invest that money. And they get to keep any investing profits. This is why Buffett loves insurance. It gives him billions of dollars to invest as he pleases. And it allows Berkshire shareholders to keep the profits.
It's easy to see why insurance is a great business. But unbelievably, investors hate insurance stocks right now...
Nobody trusts financial stocks now... Interest rates are so low, they can't earn much on the money they bring in... 2011 was a terrible year of disasters, which caused insurance companies to pay out large sums of money... and more.
But these things are already "baked in." And insurance companies are now incredibly cheap – the cheapest they've been in 30 years. Take a look...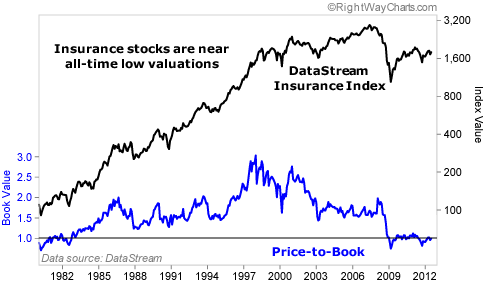 Today, insurance stocks trade below book value (a rough estimation of liquidation value). That's crazy. It means the stock market believes these companies are worth less than the value of their assets. And it gives ZERO value to their earnings power.
Historically, we've only seen prices this cheap twice: in the early 1980s and in 2009. Both periods we're fantastic buying opportunities, with insurance stocks more than doubling over the following three years.
I believe we have a similar opportunity today. The pessimism against insurance companies is just too great.
Today, some of the top insurance names are trading at dirt-cheap prices. Take a look...
| | | |
| --- | --- | --- |
| Company | Symbol | Price/Book |
| Berkshire Hathaway | BRK/A | 1.2 |
| MetLife | MET | 0.6 |
| Ace Limited | ACE | 1.0 |
| Travelers | TRV | 1.0 |
| Prudential | PRU | 0.7 |
| AIG | AIG | 0.6 |
Of course, it's impossible to know which of these companies offers the most upside. But if the overall insurance sector returns 100% in the next three years – like I believe it could – all of these companies should do very well.
My True Wealth readers currently own shares of Berkshire Hathaway. And it's one of the safest ways to buy into insurance today.
Importantly, shares of Berkshire and most major insurance names are trending higher.
This is exactly the setup we search for as investors. Insurance stocks are cheap and ignored. And they're moving higher.
Insurance isn't a sexy business. But it offers a fantastic opportunity today. My True Wealth readers are taking advantage of this opportunity. I suggest you do the same.
Good investing,
Steve