Maybe you could be happy with a lifestyle like this...
You wake up when the sun rises and spend an hour surfing or walking on the beach. On the way back, you stop by your favorite local fish vendor and select fresh fish for your restaurant. At 7:30, you enjoy breakfast served to you on your private porch. Afterward, you work on your novel or paint. Then you take a nap.
You have lunch at your regular table in the corner with an art student from the University of Denver. She tells you that she is doing a school project, studying how little communities like this develop in the shadow of private developments. You give her your thoughts.
After lunch, you check on the kitchen to make sure everything is ready for dinner. In the late afternoon, you visit some of your friends. At sunset, you have drinks with the mayor. You spend the evening at your own bar, watching the NBA playoffs and listening to Joselito play his guitar.
Does that sound good? Well, it is a typical day for the guy who owns a small place called Crobar on the Pacific coast of Nicaragua. And it could be a typical day for you, too...
A few miles south of my home in Nicaragua is a small fishing village called Gigante. It is a quaint little town that sits on a bay shouldered by steep cliffs on one side and, on the other, an outcropping of rock islands that resembles a giant's leg.
Ten years ago, it was practically deserted. But now, thanks to
Rancho Santana
, the entire southwestern coast of Nicaragua is booming. In addition to Rancho Santana (in which I have a financial interest), at least a dozen smaller residential real estate developments have sprung up in the area. And just a few miles south of us, a very large one – the size of Rancho Santana – is being built by Nicaragua's wealthiest family.
What this means is that Gigante is now bubbling with life. Along the town's main road, which parallels the water, about two-dozen little shops, restaurants, and bars have appeared.
One of these places is the Crobar, a funky, ramshackle bar and restaurant. Besides serving great drinks and surprisingly good food, it offers wandering customers three small rooms to crash in. Above those rooms is a very cool apartment for the owner.
Facing the beach is a multilevel wooden deck on which upholstered chairs and sofas face the sea. Customers can lounge on the deck, reading a borrowed book in a hammock or an upholstered sofa, or they can rent a kayak or Jet Ski and enjoy the water.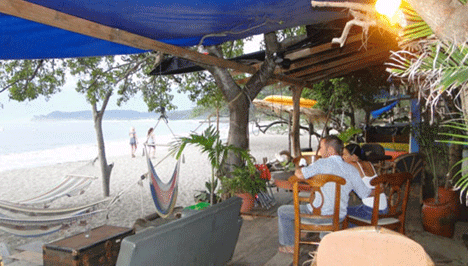 I was last there about a month ago. I was sitting with K, sipping a tequila-based mojito (I call it a Tequito) and watching the sun set on the horizon. "Life doesn't get any better than this," I said.
Then it occurred to me: The Crobar was, for the guy who owned it, a retirement dream come true. "This guy – whoever he is – has done it!" I thought. "He's escaped the stress of keeping up with the Joneses in the USA and is living like a king in paradise!"
Here I was, a wealthy guy with a mansion just a few miles away, yet I was jealous of him. My house in Rancho Santana, cheap by U.S. standards, had cost me nearly half a million dollars. The owner of the Crobar had a cooler place to live with a built-in stream of income, a never-ending circle of friends, and a view that was every bit as good as mine. And he did all that, I was quite sure, for a total investment of less than $50,000.
Here is a rough idea of what it would cost you...
Option 1. Buy a lot and build your own funky Crobar.
To buy the lot: $30,000-40,000
To build the bar: $30,000
To stock it: $10,000
Option 2. Rent and renovate an existing structure.
To lease the property for two years at $500 per month: $12,000
To fix it up and decorate: $15,000
To stock it: $10,000
Based on a conversation I had with a waitress about how busy it gets (and my experience owning and managing restaurants and bars), my best guess is that, after all expenses, the owner of the Crobar is clearing about $1,500 to $2,000 per month. (This does not count whatever money he gets from renting kayaks, Jet Skis, and rooms.)
A thousand to two thousand dollars per month is very little in the USA, but in Gigante, it makes you a rich man. Keep in mind that living expenses are very low. You will have free food and drink and free use of the "toys." You won't be working, unless you think that hanging around and talking to nice people is work.
If you think you might want to make a dream like this your reality, you need to do several things right now.
The first and most important thing is to actually believe you can do it.
I know this sounds like just another story you might read in a travel magazine, a passing fantasy that holds your interest only briefly. But it is a reality – and not only for a handful of gringos in my little corner of Nicaragua but for thousands of others in Central America and the Caribbean.
So believe it.
The next thing you must do (and this will help you believe) is educate yourself about retiring overseas. Read stories about people who are doing what you want to do. I can recommend one particularly good source of information on this subject:
International Living
(an Agora publication). In particular,
this International Living link
provides specific information on Nicaragua, including access to a free report about living in the country.
The third thing you must do (and you can do this at the same time as you learn about living overseas) is learn something about being an entrepreneur. (Of course, if you are already an entrepreneur, you can skip this step.) To accomplish that goal, I humbly recommend several of my own books:
Ready, Fire, Aim
,
Seven Years to Seven Figures
, and, especially, my most recent book,
The Reluctant Entrepreneur
, published by John Wiley & Sons.
You can accomplish these first three steps in a matter of weeks. If, after completing them, you are still inspired, the next step would be to travel down to Nicaragua (or some other similar retirement paradise) and check it out for yourself.
You could do this on your own, but you don't have to. Agora Travel sponsors exploratory trips for folks who are thinking of retiring overseas.
If, after taking one of these trips, you decide you want to take action, the folks at Agora Travel will introduce you to reliable local contacts who will help you with every aspect of your investment. For more information on an upcoming tour to Nicaragua, call (800) 926-6575 or e-mail
[email protected]
.
What you are looking for is pretty simple: a piece of property within a few miles of a gringo hotel, resort, or community that you can buy for non-gringo prices. On the one hand, the closer to the gringos you go, the more you are going to pay for the property. On the other hand, the closer you are, the more business you'll probably do.
There are lots of benefits to living this kind of retirement dream: a safe haven from the collapse of the American Empire (if you are concerned with that sort of thing)... a refuge from the collapsing dollar... a second passport... a second identity (if you wish)... a chance to learn a new language, meet new people, or start over.
You are not going to make a fortune owning a place on the beach like the Crobar. But you can make enough for a happy, financially secure retirement.
Regards,
Mark Ford