Right now, DailyWealth readers finally have the opportunity to do something everyone wants to do...
Make money by doing nothing.
Many people are fine with doing hard work. It's the American way. But everyone likes income that comes pouring in without any real work. It's human nature.
And anyone who has taken our advice to buy dividend-paying stocks now has the opportunity to do just that. You just have to ignore the gibberish some of our fellow financial publishers are producing right now...
Over the past few years, we've stressed the importance of dividends and high-quality stocks dozens of times in
DailyWealth
. In a world full of risk and fraud, getting paid steady and growing dividends is one of the market's best strategies. Our colleague Dan Ferris even coined a term for the strategy of buying elite,
dividend-paying blue chips
. He calls them "World Dominating Dividend Growers."
And anyone who took our advice has saved – and made – a lot of money over the past few years.
You see, our dividend idea went through a major "stress test" in 2011. The broad market endured huge swings... and was crushed during the summer European panic. It fell 17%, and some of the market's riskier companies fell 25%-50%. But most of our favorite dividend-payers – like Coke, Intel, and Wal-Mart –
held up just fine
.
I expected these dividend-payers would continue to do well. In January, I explained how owning these stocks would become the "
fashionable thing
" on Wall Street:
Our guess is that, in 2012, more and more people recognize the safety and income-producing power of basic dividend payers. With interest rates low, the fashionable thing on Wall Street will be for fund managers to say, "I own blue-chip dividend payers."
This will send a flood of new money into these stocks. Corporate managers will see the share prices of divided payers rise... so they will hike payouts. This will create a "momentum" trade in dividends.
Here we are, eight months into the new year, and dividends have become the "fashionable thing" on Wall Street. A huge amount of money has flowed into top dividend-paying stocks.
Wal-Mart (NYSE:
WMT
), for example, has gained 30% in just over three months. It's moving more like a fast-growing tech company than a blue-chip behemoth.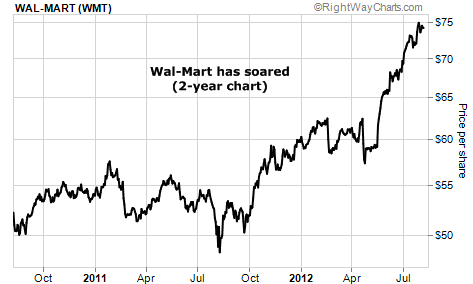 It's not only Wal-Mart. Other reliable dividend-payers like Coca-Cola, Johnson & Johnson, and Abbott Labs have soared as well. Just look at the chart of Coke. Again, that kind of move is normally reserved for fast-growing, smaller businesses.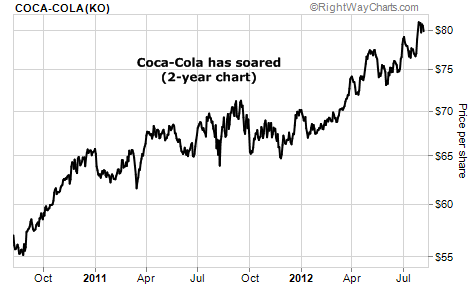 These huge moves have journalists and investment "experts" crawling out of the woodwork to claim that "dividend stocks are in a bubble." I know these claims have frightened some investors... even to the point of selling their positions.
What should you do in this situation? Should you sell because these stocks have soared so much recently? Should you sell because people are saying dividend stocks are in a "bubble"?
First of all, you should realize that anyone who says dividend stocks are in a bubble doesn't know his financial history. And he doesn't know what a market bubble looks like.
In a market bubble, like Internet stocks in 1999, a huge amount of "non investors" get into the game. In a real bubble, personal trainers, taxi drivers, and schoolteachers suddenly become "experts" on the hottest stocks. In a real bubble, the hot stocks are all you hear about in the press. In a real bubble, stocks trade for 50... 100... even 200 times earnings.
We're nowhere near that with dividend stocks.
Sure, dividend-payers are getting a lot more press, and they've run much higher, as we predicted. But they are nowhere near "bubble" status. They are nowhere close to Internet stocks in 1999. So dismiss the ignorant talk of a "dividend bubble."
If you took our advice to buy many of the dividend stocks that are soaring right now, here is what you should do: Nothing.
I repeat: You do nothing. That's the beauty of buying a great dividend-paying business at a great price. After taking your position, you do nothing.
You don't concern yourself with short-term corrections. You don't concern yourself with what people are saying on CNBC. You sit back and collect your dividend checks from the world's best businesses.
For example, if you bought longtime Dan Ferris recommendation and dividend-powerhouse Philip Morris International in early 2009, you are now collecting dividend yield of 7.7% on your original investment.
Philip Morris has more than doubled in price since then. It's had a great run in 2012. So sure, it's probably due for a short-term correction. A lot of dividend stocks are due for a correction.
But sophisticated investors who bought at a good price – and who are collecting those big, safe dividends – simply don't care about a short-term correction in Philip Morris... or any other elite dividend-payers.
They don't care if others think their stock is in a "bubble." They only care about receiving those huge dividend checks.
So if you've recently made a lot of money in dividend-paying stocks, congratulate yourself. Go out for a steak dinner. But don't worry about a correction... And don't worry about the supposed "bubble."
Just do what sophisticated, long-term investors have done for many years. Sit back and compound your wealth.
Do nothing.
Regards,
Brian Hunt