People are always craziest and greediest about the investment you should avoid the most.
Take bonds today...
Investors are pouring money into bond funds these days... Researchers at the non-profit Investment Company Institute reported that for the week ended Wednesday, August 8 (the most recent available data), investors pulled $3.68 billion out of equity mutual funds... and put $7.17 billion into bond mutual funds.
Investors are so terrified of stocks, they'll pay anything for the "safety" of bonds.
They don't realize that paying any price no matter how high, makes bonds unsafe. And they don't realize there's a MUCH safer, HIGHER-YIELDING alternative...
Bond yields are at all-time lows, right now. Tech giant IBM recently sold $1 billion of bonds yielding less than 1.9%. Inflation is around 2% now. So after inflation, people who bought the IBM bonds won't be earning anything. They'll actually be losing money.
Investors feel safer losing money by overpaying for IBM bonds than buying a high-quality stock.
Take Microsoft, for example. The company is rated triple-A, the highest credit rating. It has about $12 billion in debt... and $63 billion in cash and securities. I've long argued it's one of the world's safest stocks. And right now, it pays a 2.6% dividend yield.
That's not all that much better than the IBM bond. But here's the thing: That yield will GROW over the next several years. Over the last five years, Microsoft has grown its dividend an average of 12%.
Bond yields don't grow.
In addition, a business that grows steadily over a period of many years gets you exactly what that IBM bond lacks: inflation protection.
Over the last five years, Microsoft's profits have grown an average 9.9% a year, way outpacing inflation. If you own a bond, you don't get to benefit from that kind of growth. So you have little hope of beating inflation.
Even if you're earning a double-digit bond yield, inflation will still hurt.
Let's say you own a fully taxable corporate bond paying 8%. And let's say inflation is 2%.
Ten years down the road, that bond will pay you 4.25% per year (after taxes) on your initial investment. But a 3% dividend yield growing 12% a year under the same taxes and inflation will pay you 4.95% (after taxes) by year 10.
You can see what I mean in the chart below. The blue line is the yield on cost of your dividends. The gray line is your yield on cost for the bond. While the bond yield slowly erodes, the dividend yield skyrockets.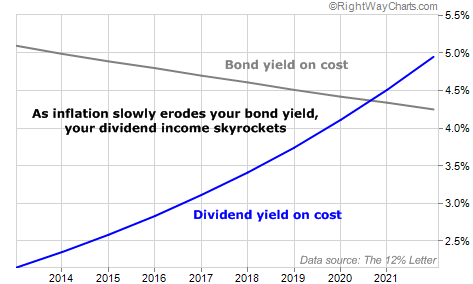 Dividend-growth stocks can beat even the fattest bond yields.
It's not hard to figure out that investors should be very afraid of bonds right now. They should be putting their money into high-quality stocks instead.
If you know someone who is stampeding into bonds without a thought for risk, maybe you can pass this along to them and help them see what we see.
Good investing,
Dan