A big move in gold is coming...
After gold peaked just above $1,900 per ounce in August 2011, it took a well-deserved break. But now, after spending an entire year on hiatus, the bull is back.
Two weeks ago, gold busted out of a long-term consolidating-triangle pattern. It should be off to the races from here. That goes for gold stocks, too...
There's plenty of energy stored up for a big move in gold.
In technical analysis, we add the height of the triangle to the breakout point to come up with a target price for this rally phase. Since the height measures $350 – and the breakout occurred at about $1,650 – we can expect gold to make its way up toward $2,000 per ounce.
Take a look...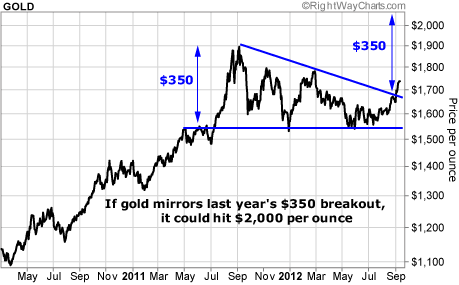 Of course, we can thank the world's central banks for this development. It was the European Central Bank's willingness to "do whatever it takes" to provide liquidity to European countries that caused gold to break out two weeks ago in the first place.
And it's the continued promise of liquidity from our own Federal Reserve that will keep gold prices rising in the months – and perhaps even years – to come.
It won't be a straight shot higher. After all, nothing goes straight up every day without taking a breather. And after such a strong move over the past couple weeks, I fully expect gold to pull back a bit and maybe even retest the breakout level at $1,650.
But make no mistake about it... The gold bull market is back. Any pullbacks are buying opportunities, in gold and gold stocks.
Gold stocks have had a terrific month. The NYSE AMEX Gold Bugs Index (HUI) is up about 10% since last month, and it's threatening to turn positive on the year.
That may not seem like much of a big deal – especially since other sectors of the market are showing big gains this year. But considering the gold sector was actually down more than 20% at one point back in May, getting back to even on the year is a huge turnaround.
And there are plenty of gains ahead...
That's because gold stocks are dirt-cheap.
Relative to the metal itself – and with the exception of the mass liquidation phase in 2008 – gold stocks are STILL as cheap today as they have been at any point in the past decade. Look at this chart comparing the HUI to the price of gold...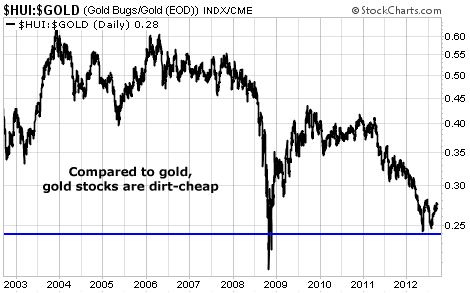 Gold stocks were cheap when we started the year. They're even cheaper now – despite the big rally over the past month.
The precious metals sector is the best "value" group in the market right now. With gold starting a new bull market, the downside is limited for gold stocks. And the upside is big.
Best regards and good trading,
Jeff Clark