If you hold any bets on crude oil rising, we encourage you to dump them. A correction is headed our way.
A simple boating concept explains why...
Picture a boat... the kind you'd take on the ocean for a fishing trip. Now picture the Dallas Cowboys football team on the boat. If all 53 players are evenly spaced, things are fine. But if all 53 players move to one side of the boat, bad things happen. The boat tips over until lots of Cowboys are shark food.
This situation often happens in the market. When a huge number of market participants take one side of a trade, the market dumps them overboard. That's just how the market works. When everyone gets bullish on something, it's time to get bearish – and vice versa. The market tries to harm as many people as possible as often as possible.
We measure the number of people on each side of the oil market with the "Commitment of Traders" report. It's a government report that classifies market participants and tracks their positions. For example, participants in the crude oil market can include oil producers, refiners, and traders who simply bet on price moves.
Many of the oil traders use
trend-following computer systems
to trade the market. And when those oil traders all move to one side of the trade, they usually get tipped overboard.
Since early June, crude oil has enjoyed a large short-term rally. Prices moved from $94 per barrel to $108 per barrel (a fast, 15% move). This rally has drawn in a massive amount of speculative trading capital. There is now an all-time record of speculative long-side trades in the market. In other words, the speculators have moved to the same side of the boat.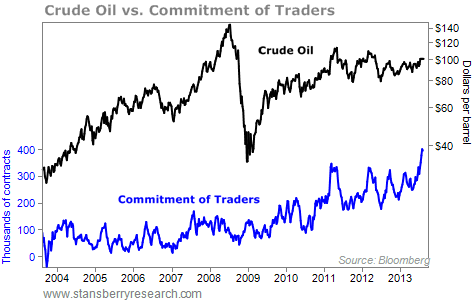 We believe this massive speculative reading marks the end of the current crude oil rally. The market is ready to punish the speculators. We're not predicting a price collapse to $60, but a decline down to $95 is a chip-shot from here.
Experienced traders can consider shorting a high-cost oil producer, like Canadian oil sands giant Suncor (
SU
). You can also consider buying an "inverse" fund that rises when oil falls. The largest of these are DNO, an inverse fund, and SCO, a double-inverse fund (which goes up twice as much as oil falls). Keep in mind, these funds don't perfectly track crude oil prices. They end up "bleeding" value.
So the key takeaway for most readers is to make sure you don't hold any short-term trades that need a rising oil price to profit. The boat is badly tipped to one side. The crowd is very bullish. And the market likes to punish the crowd.
Good trading,
Amber Lee Mason and Brian Hunt