If I could teach investors just one thing, it would be how to identify and value a World Dominating Dividend Grower business.
It's the single-best way to get rich in stocks...
Remember, these are the world's strongest, safest companies. These companies dominate their industries. They have the best brand names, the biggest competitive advantages, the biggest profit margins, and they pay the safest dividends.
In other words, these stocks are different from typical stocks. They are different from "the market." WDDGs are vastly better.
And today, I'll show you exactly how to identify one.
Let's use Becton-Dickinson (
BDX
) as a "case study"...
Becton-Dickinson is the World Dominator of needles and syringes for the medical industry. Odds are you've come into contact with the company's products dozens of times in your life and never realized it.
Like many WDDGs, BDX was the driving force in creating the industry it dominates today. In 1906, it built the first plant in the United States for making needles and syringes. And in 1925, BDX began offering the BD Yale Luer-Lock Syringe, which created a secure way to attach and remove a needle from a syringe. Luer-Lock connectors remain an industry standard today. BDX is also the top maker of safety devices to prevent needle-stick injuries.
BDX has an extraordinary brand, and it is No. 1 in its industry. Those are "on the surface" clues to finding these stocks. But we also need to look inside the company... to find the financial clues of a WDDG business.
One of the hallmarks of a WDDG is consistent profit margins. This is the amount of money a company earns from each dollar of sales. A great business should have consistent profit margins, so it can pay you a consistent stream of dividends... but that company should also have a sustainable long-term competitive advantage so it can consistently earn those profit margins.
Becton-Dickinson's gross margins (the margin earned before deducting the basic costs of doing business) are consistently above 50%. Its net margins (the margin earned after deducting all expenses and income taxes) have consistently been between 14% and 17% for at least 10 years.
That's huge. Most businesses are ecstatic to earn net margins of 5% or 10%.
Another hallmark of a WDDG is huge free cash flow. Free cash flow is the final "cash in hand" number that a business owner has after deducting expenses. It's a vital number for investors.
BDX gushes free cash flow. On sales of $7.9 billion, BDX generated just over $1 billion in free cash flow the last four quarters.
A third sign of a WDDG stock is a strong balance sheet. As shareholders of a business, we want to see lots of valuable assets and low debt. We want a strong balance sheet so we don't have to worry about tough times causing a bankruptcy.
Becton-Dickinson has an excellent balance sheet. It has $2.3 billion in cash and short-term investments and less than $3.9 billion in debt. BDX's debt is very small compared to its earnings. Its earnings cover its interest expense nearly nine times over. Just imagine earning nine times your mortgage payment every month!
Finally, for a company to qualify as a WDDG, we need to see
a history of dividend growth
. Becton-Dickinson is
one of the best dividend-growth stocks in the world
. BDX has relentlessly raised its dividend every year for the last 40 years. Its last increase was by 10%...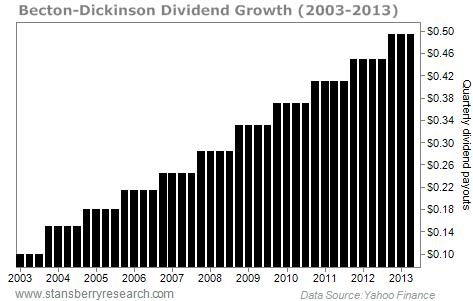 Becton-Dickinson pays out roughly one-third of its earnings per share in dividends. So there's plenty of room for big dividend growth in the coming years. Right now, BDX yields about 2%. If it maintains its 10% annual dividend growth, you'll be making about 14% annually over your original cost in 20 years.
To sum up, there are obvious things to look for when you're after the world's safest, best dividend-paying stocks... the kind you can hold for decades and get rich. This includes a dominant brand and the top position in an industry.
But today's essay shows you some vital "financial clues" for finding these stocks... and why Becton-Dickinson is a great example.
Good investing,
Dan Ferris