The key to growing wealth is a growing world...
And the global economy is growing.
That's not based on one data point or some convoluted gross domestic product survey. As my longtime readers know, I use "real world," primary sources of data.
And one of my top "real world" indicators is showing me something I think every investor should see...
If you really want to know what's happening in the world economy, don't look at retail sales, money supply, or unemployment. Look at the movement of goods around the globe. Look at shipping.
The
Baltic Dry Index (or BDI)
is one of the most common "benchmarks" of shipping activity. This index measures a combination of different shipping prices and gives a clear view of the cost of shipping dry goods by sea. (Dry goods include coal, grain, sand, wood chips, and iron ore.)
When economic activity picks up, more goods get shipped and shipping rates rise.
You'll usually see the BDI cited as a snapshot of what's happening at the moment in the global indicator. But the BDI also has an excellent track record of signaling trends ahead of time – as producers try to predict demand and order goods beforehand.
Right now, the index is on its best run in two years. This is a sustained trend. But as the chart below shows, we're coming off low levels for most of 2012. So this isn't a runaway boom in the global economy... just more confirmation that things are looking better and better.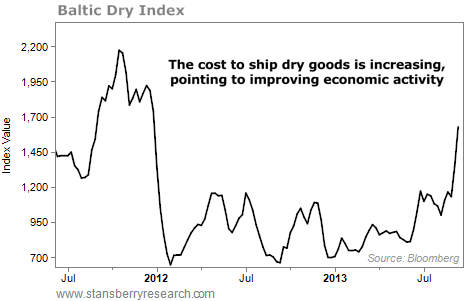 Keep in mind: You have to be careful reading the BDI... In addition to demand from producers, it also can reflect changes in the supply of ships. That complicates the index's signals. For example, if shipping volumes are so bad that companies are mothballing or scrapping vessels, prices can rise from lack of supply, and vice versa.
Fortunately, you can check the BDI by looking at exactly how many ships hit the major ports and how much cargo they carry.
As you can see in the following chart, volumes at three huge global ports are high and rising...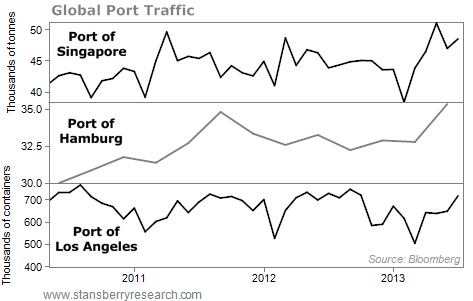 If you're worried about a
slowing Chinese economy
... the port traffic in Singapore, Hamburg, and Los Angeles should put those fears to rest.
Looking at these charts, the only thing I see is a healthy global economy.
A lot of smart folks are predicting trouble ahead. They see lots of reasons to be cautious about stocks.
But I disagree. The numbers I'm seeing say the "slow-growing economy" trade is the right one.
Here's to our health, wealth, and a great retirement,
Dr. David Eifrig