No one was paying attention... but a simple fund doubled the return of stocks over the past five months.
You won't hear about it on CNBC. This idea I'll share with you today gets no press in the mainstream financial media. But you'd be foolish not to put it to work today.
Like I said, this fund doubled the return of the S&P 500 over the last five months. And it did it safely. This fund doesn't take big risks. By following a few simple principles, it holds better stocks that lead to better returns.
Here's the best thing... this recent outperformance wasn't special. It didn't happen because of a one-time event or good fortune. This idea has a multi-decade track record of market-beating returns.
I expect it to outperform the overall market for decades to come... and you can easily put it to work for yourself today.
Its goal is simple... Own a basket of the best companies based on shareholder yield (more on that in a minute). And so far, it's working...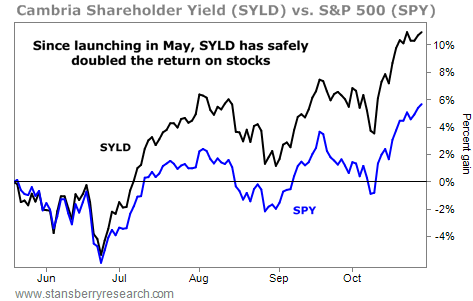 Since May, the overall stock market is up around 5%. SYLD has doubled that gain, rising nearly 11%.
Doubling the return on stocks – even for a short period of time – is difficult. It usually requires taking big risks. But in the case of SYLD, there are no big risks. And the outperformance isn't all that surprising.
The fund was launched by Mebane Faber of Cambria Investments. Meb is a numbers guru. So when he got interested in the idea of shareholder yield, he crunched the numbers, and actually published an
e-book
with his results.
Meb's goal was to find a simple way to identify the world's most shareholder friendly businesses... Companies that consistently return tons of cash to shareholders.
Now, most folks think of dividends as the only way a company can give money back to shareholders. But that's just the start. Meb identified three ways companies return cash... 1) dividends, 2) stock purchases, and 3) debt repayments.
Based on Meb's findings, buying companies that return the most cash to shareholders crushes the overall stock market. Since 1982, you could have earned 15% a year with this strategy versus just 11% a year in the S&P 500.
Over 30 years, that leads to nearly triple the gains of simply owning the stock market.
Those results are impressive. But Meb wasn't finished. Next, he screened the
top shareholder yielding businesses
to find out which were in an uptrend. By including a simple uptrend, his 15% annual gain increased to 16.8%.
That simple 1.8% increase nearly doubles your return over 30 years.
With these amazing results in hand, Meb launched SYLD to put his theory to work. And after doubling the stock market's return in just five months, it's off to a great start.
Meb is a longtime friend of Stansberry Research. I was able to meet up with him earlier this year in West Virginia. When we spoke, Meb explained to me how the fund continually rebalances into the best shareholder-yielding companies.
With the feature of automatic rebalancing, SYLD is truly a "set it and forget it" investment. It's the kind of fund you want to buy today and forget about for the next 30 years.
You're making a big mistake if SYLD isn't one of your long-term holdings. To be clear, we get no compensation for recommending Meb's fund. The history is simply undeniable. And importantly, SYLD is performing exactly as you'd expect.
I believe the recent market-beating returns will continue for years. Don't miss out.
Good investing,
Brett Eversole