990% in four years...
That's how much the price of silver-dollar coins soared during the coin bull market from 1976 to 1980, according to David Hall in his 1987 book A Mercenary's Guide to the Rare Coin Market.
The value of silver dollars corrected from 1980 to 1982. Then, these particular coins soared again from 1982 to 1985 – rising 188.6%.
In short, silver dollars can soar when a bull market gets going. I believe a new bull market in these coins could get started soon. Based on history, the right silver coins could easily soar by triple digits. It's a trade you want to be a part of right now...
Now, it wasn't just any old silver dollars that delivered 990% gains. They were silver dollars in MS65 grade... These coins are semi-rare – exactly the kind of coin I'm interested in today.
I call them "hybrid" coins... They are more valuable and harder to find than standard bullion coins selling for around melt value. They also have collectible value – and trade for much more than the value of the metal they contain. But they are not one-of-a-kind... There are enough around that you can buy them with ease.
This is exactly the kind of coin I'm interested in buying today...
You see, I spoke with my good friend Van Simmons, who knows as much about rare coins as anyone on the planet. Van is actually one of the founders of the Professional Coin Grading Service (PCGS) – the benchmark for quality in coin grading.
I asked Van about
MS65 Morgan silver dollars
. He said, "Steve, you nailed it. I've been buying these for myself. The Morgan dollar is without question one of the most loved coins. And right now, it is just ridiculously cheap."
Van told me that in 1986-1987, his dealer cost on these particular coins was near $1,000 per coin. That was 27 years ago. Today, these coins retail for less than $200!
The story is simple: The price of silver has soared since then. But the price of Morgan silver dollars in MS65 grade has barely budged, creating an incredible opportunity.
Morgan silver dollars are near their all-time best value relative to the price of silver.
You see, since the price of silver has gone up and the price of the coins has gone basically nowhere... the premium for the Morgan dollars has shrunk to record levels in recent years.
Take a look...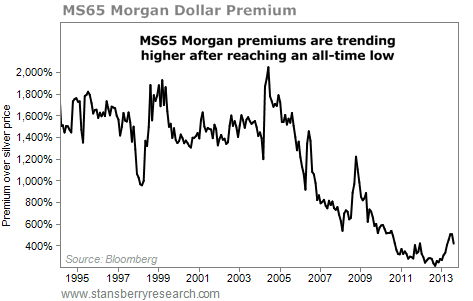 While these coins traded for a 1,500% premium throughout the 1990s and early 2000s, today's premium is way below that now. Our opportunity is the best it has been in decades.
And as the chart shows, the premium is now rising for the first time in years. As premiums continue to rise, our gains will pile up. I think premiums could double – even if silver prices go nowhere.
Silver has been carving out a bottom over the last six months. And after a fall from grace, I believe investors have mostly given up on silver. I doubt we'll see much lower prices. But importantly, we don't have to see higher prices to make money on this trade.
You see, we'll make money in Morgan dollars as the coin's premium-over-melt value rises up from record lows, or as silver prices rise.
Those two circumstances aren't just possible... they are likely. And if they happen, these MS65 Morgan silver dollars can double.
The easiest way to make the trade is by buying the Morgan silver dollar coins in MS64 grade. While the gains I presented were based on MS65 grade coins, the MS64 coins are easier to buy. They are not as "perfect," and they trade for around half the price. But they should still soar alongside MS65s.
I suggest dealing with Van Simmons of David Hall Rare Coins. Keep in mind – I get nothing for recommending Van. But he has done a fantastic job for me and my readers over many years. You can reach Van at 800-759-7575 or
[email protected]
.
Two other coin dealers that have treated my readers well over the years are Dana Samuelson and his team at American Gold Exchange (800-613-9323,
[email protected]
) and Rich Checkan at Asset Strategies International (800-831-0007,
[email protected]
).
If you're interested in silver, this is the best way I know to invest today. We have a real shot at triple-digit gains, even if silver prices go nowhere. That's a bet I'll happily make today.
Good investing,
Steve Sjuggerud