On January 18, 2002, shares of the world's largest publicly traded uranium producer, Cameco, traded for just $3.37.
Five years later, Cameco shares traded for $50... an almost-1,500% increase in value.
On Valentine's Day 2001, shares of Goldcorp, one of the world's premier gold miners, traded for just $2.50. Seven years later, Goldcorp shares traded for $53... a 2,000% increase in value.
In March 2003, shares of Potash Corp, one of the world's premier fertilizer miners, traded for $3. Seven years later, Potash traded for $75... a 2,400% increase in value.
To give you an idea of the wealth-creating potential of these gains, realize that a 2,400% return on a $10,000 investment results in a stake valued at $250,000.
These are the types of gains investors can realize when they make great investments based on the cycles of natural resources.
Although many people understand how lucrative these markets can be, most don't understand how they work...
Most people don't know one aspect of the resource sector is so important that if you don't thoroughly understand it, nothing else you do right can possibly help you...
You will lose every cent you put in the sector.
Insiders call this aspect "cyclicality."
Cyclicality might sound like industry-speak, but it's actually a simple concept...
One year, it will skyrocket 200%. The next year, it will plunge 50%. After plunging, it might drift sideways for a year and then rise 100%.
(This "boom and bust" price action is in stark contrast to the steadier price action of "non-cyclical" assets, like shares of fast-food maker McDonald's... or health care giant Johnson & Johnson. These blue-chip businesses are much more stable than the business of gold mining or drilling for oil.)
Take Cameco, for example... It's still the world's largest publicly traded uranium producer.
Like I said, Cameco's share price jumped nearly 1,500% from 2002 to 2007... Then it dropped 80% from 2007 to 2009... Then it jumped 270% from 2008 to 2011...
That's when a huge tsunami hit Japan's Fukushima nuclear power plant. The disaster caused Japan and several other countries to shelve nuclear programs. Spot uranium prices dropped about 30% in less than a month. And they ground lower from there.
That destroyed the share price of Cameco. Shares gave up 61% of their market value before the end of the year.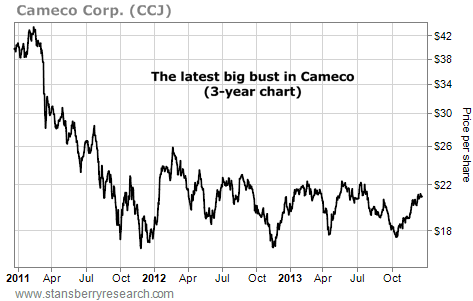 But the low uranium price is setting Cameco up for another boom...
Right now, even the lowest-cost uranium producers are spending between $45 and $50 to get a pound of uranium out of the ground. The current spot price is around $35 a pound.
As high-cost producers shut down, the supply will shrink, and prices will move higher. That's going to lead to a
major rally in shares of Cameco
. If shares simply returned to their pre-Fukushima levels, investors would make about 100% from here.
Of course, higher uranium prices will eventually produce lots of investment in new uranium mines. The supply will balloon... And the next bust will hit. That's how "cyclicality" works.
But that's years – maybe even decades – down the road. And the next move in this "boom and bust" asset will be up.
Good investing,
Brian Hunt
P.S. While "cyclicality" is a basic concept, there's much more to know about how to spot the best setups and SAFELY take advantage of them. That's why I've assembled a full report, including how to master resource cycles and two of our favorite "boom" sectors in the next year. It's part of a brand-new project we created to show you the steps you MUST take with your money in 2014.
We're putting the final touches on it now... and will send you information later this week. Look for it.