In short, Mark did not want to buy my recommendations that had gone up – particularly the ones that have gone up a lot. Instead, he wanted to buy my recommendations in emerging markets that had gone down.
Pastor Mark was missing an important lesson in investing. It's simple in principle, but hard to commit to in practice...
In a bull market, you make the biggest money by finding the strongest uptrends and sticking with them as long as possible.
Said another way... Do more of what's working and less of what's not.
And over the past month, following that simple lesson was exactly right...
You see, from mid-December to mid-January, the five best-performing recommendations in my True Wealth portfolio rose an average of 9%. And these positions happen to be five of the six biggest winners in our portfolio.
We're up an average of 120% on all five. Yet, once again, they blew away the rest of our portfolio in the last month. My emerging-markets picks, on the other hand, were down over the same period.
Those five positions were working... and they continued working. Until that changes, this is where we'll find our biggest gains.
Let me show you an example...
The trade that's working the best is biotech stocks... the iShares Nasdaq Biotech Fund (IBB) was up 13% from mid-December to mid-January.
Of course, we want to play it smart. We don't know exactly how high biotech stocks can go... but it could get absolutely crazy. We would like to be onboard for as much of it as we can.
With that in mind, I have no interest in "taking profits" in biotech... but that doesn't mean I'm not keeping my eye on it. In fact, these stocks are making me a bit nervous today...
The benchmark Nasdaq Biotech Index soared 66% last year... more than double the S&P 500's huge 32% gain.
The chart of biotech stocks is starting to look "parabolic" – which is a term used to describe when a market is reaching "bubble" proportions. Take a look...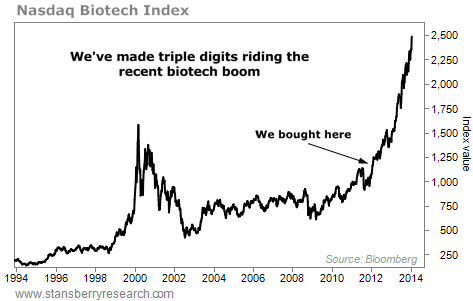 Biotech stocks broke out to multiyear highs in 2010. And they've broken out to new all-time highs since we bought in early 2012.
The chart above looks scary... at first.
But when you dig a little deeper, history shows that biotech stocks can soar MUCH higher than where they are now.
For example, today's
bull market in biotech
doesn't even compare with the parabolic move we saw in biotech stocks during the last bull market of the late 1990s. The chart below shows what I mean...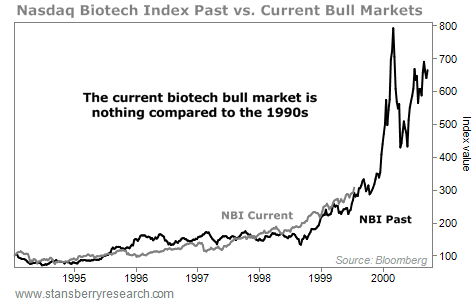 The chart shows the Nasdaq Biotech Index's 1990s move in black. The gray line is today's move. I simply shifted the dates... moving mid-2008 to early 1994.
As you can see, even though biotech is up triple-digits, history says we haven't even hit the real parabolic move yet, like we saw in 2000.
Biotech is clearly one of the strongest uptrends in the world today. And if you've made the trade, I don't recommend you sell. Selling early could mean missing a lot of gains.
Again, I plan to play it smart. We're not selling. But now is the time to
watch your trailing stops
closely. History shows that the boom could go on much longer... and we don't want to miss it.
This is the big secret to making the largest gains in a bull market. Find the strongest trends and stick with them. Do more of what's working... and less of what's not.
Watch your trailing stops closely in your big winners (like biotech). But don't sell. The biggest gains could be still to come.
Good investing,
Steve