When it comes to compounding serious wealth in the stock market, there really are no shortcuts.
It takes time.
Telling people this secret costs financial publishers more subscribers than anything else.
We hear it all the time: "I'm not paying you guys to make me rich in 2033... I want some hot stock tips today!"
We like home runs as much as the next guy. And we've recommended plenty of stocks that have doubled or more.
But let's say you're interested in earning safe, consistent returns without worrying about earnings releases, the talking heads on CNBC, or any other temporary market distractions.
To do this, you must buy outstanding businesses... The kind with durable competitive advantages... The kind that return large amounts of capital to their shareholders. And you must buy them at good prices.
If you make sure to do those two things (buy quality, and buy it at a good price) one final tip can more than double your returns without any additional effort...
Reinvest your dividends.
Reinvesting dividends
is when you take the dividends you receive from an investment, and use them to buy more of that investment. It allows you to earn dividends from your dividends. Performed consistently, it allows a small amount of money to grow into a huge amount of money.
Nearly every brokerage does this for free. If you don't need to live off the cash generated by your investments... you have absolutely no reason to not do this.
To illustrate this point, take a look at the following chart for oil major ExxonMobil (XOM). ExxonMobil is probably the best-run company in the entire world.
The chart displays the performance of how you would have made out in ExxonMobil with two investment strategies, by investing $100 in the stock in 1981.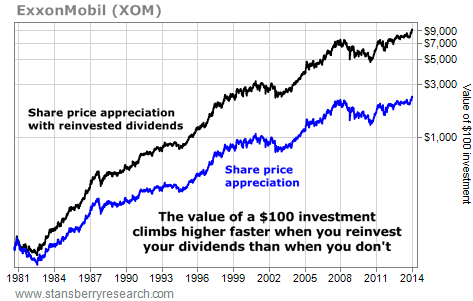 Look closely at this chart. Over 34 years, a $100 investment grew to more than $2,200, not including around $700 of dividends.
Making $3,000 on a $100 investment isn't bad at all. It works out to around 11% per year.
But by reinvesting dividends – which, again, requires no additional effort on your part (and incurs no additional fees) – your $100 turns into $9,000.
The first thing to think about when you look at that chart is all the ups and downs
ExxonMobil
had over those years.
Oil prices fell as low as $20 per barrel and reached highs of $140 per barrel. The company fell short of Wall Street's quarterly expectations a few times... it exceeded expectations a few times. One of the company's ship captains got drunk and rammed his boat into Alaska (resulting in an enormous oil spill).
But in the end, nothing really stopped the ExxonMobil juggernaut. Not oil prices. Not one of the worst environmental accidents of the century. And not quarterly earnings announcements.
That is the power of buying fantastic, capital-efficient companies and committing to holding them as long as possible. No matter what happens, you're bound to succeed in the long term.
Now... notice that the "reinvest dividends" line hugs the "price appreciation" line pretty closely for the first 15 years of the investment.
It's really not until 1995 that the power of compounding became really evident. That's the beauty of free shares through dividend reinvestment. Free shares bring more dividends... More dividends buy even more free shares... and on and on.
If you can overcome your desire for short-term "home runs" and focus on reinvesting the dividends you receive from world-class businesses, you're guaranteed to build substantial wealth in stocks.
Regards,
Bryan Beach