The U.S. dollar is in danger because our government is in too much debt.
The U.S. dollar is in danger because our politicians are acting recklessly.
If you've read a financial newspaper or watched financial news in the past five years, you know why some folks believe the U.S. dollar will decline in value over the coming years.
Now, take those reasons and double their power...
... And you'll see why the Japanese yen is in danger... and why you should bet on it falling.
We have a unique way for you to do it today.
One of our main goals in our DailyWealth Trader service is to share ideas and insights from some of the world's best investors and traders.
Today, we're sharing an idea from one of the most widely followed traders in the world... Dennis Gartman.
Dennis Gartman writes an excellent daily newsletter – The Gartman Letter – which covers all the major financial markets. Stocks, bonds, currencies, real estate, commodities... Gartman covers them all and provides actionable trading recommendations based on his analysis. Many of the world's top financial firms consider Gartman's letter "must read" material.
(Gartman's letter isn't cheap... but it's a fantastic daily read. If you're controlling a large investment stake, it's well worth the cost. You can learn more about a subscription at
www.thegartmanletter.com
.)
As we mentioned, many people believe the U.S. dollar is in danger because of the debt and obligations the government has taken on. But the government of Japan has taken on much more debt... and put its currency in much more danger.
A country's debt-to-gross-domestic-product (or debt-to-GDP) ratio shows how much debt it has relative to its annual economic production. The U.S. debt-to-GDP ratio is 103% (meaning the national debt is 3% larger than the annual economic output)... The Japanese debt-to-GDP ratio is 227% (meaning its debt is more than twice the size of its annual economic output).
In other words, the U.S. has problems... but Japan has much bigger problems. And that means problems for its currency, the yen.
A nation's currency is like a rough "stock price" of that nation. Generally speaking, if a country manages its finances well and engages in productive behavior, its currency appreciates over the long term. If a country racks up crazy debts and runs its finances like a drug addict, its currency depreciates over the long term.
Like almost any government throughout history, Japan's government plans to lessen its debt burden by devaluing its currency. It plans to pay its obligations with devalued money.
Over the past three years, it has been successful at carrying out its plan. The Japanese yen has fallen in value by 38% since mid-2012. Because Japan's debt burden is so high, you can expect the yen to fall even more in the coming years.
And as a currency falls, the price of gold in that currency usually rises.
As we explained in last week's
DailyWealth
,
we think gold has bottomed
and is likely to rise in the years ahead. But even if gold simply treads water in U.S. dollars (as it has done for the past couple years), there's a good chance it will still rise in yen.
And that's exactly what it has done. The chart below shows the change in the price of gold in U.S. dollars (the black line) and the change in the price of gold in Japanese yen (the blue line). You can see that gold fell 4% for U.S. investors over the past 12 months... And it rose 16% for Japanese investors.

But you don't need to live in Japan to take advantage of this trend. About a year ago, Gartman worked with a financial firm to create a one-click way to "buy gold in yen terms" – the AdvisorShares Gartman Gold/Yen Fund (GYEN).
The fund has a reasonable annual fee of 0.65%... And as you can see in the chart below, it does a great job of tracking gold's price relative to the yen. The black line shows the change in GYEN over the past year. The blue line, again, shows the change in gold relative to the yen.
They're each up about 16%.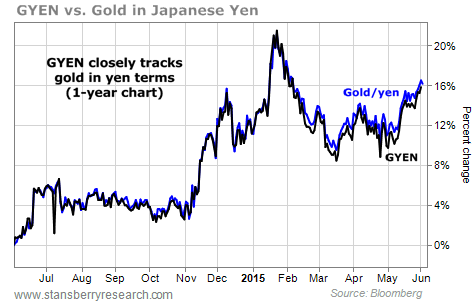 The minor difference in returns is mostly due to the annual fee.
Today, we recommend you take advantage of two trends that are likely to play out over the next year: rising gold prices and a falling yen. Gartman's fund is a simple way to do both.
You could make double-digit annual returns over the next few years as gold rises and the yen falls. It's one of the best currency trades you can make right now.
Regards,
Brian Hunt and Ben Morris