Shares of a massive retailer are bouncing off their lowest levels since 2012.
The company is incredibly oversold right now. And based on history, that gives us a fantastic opportunity.
Buying during similar situations over the past three decades could have led to around 24% average gains in just six months. A similar upside opportunity is setting up right now.
Let me explain...
This oversold extreme comes from a well-known retailer... Gap (NYSE: GPS).
Gap specializes in apparel and covers a range of styles through its Banana Republic, Old Navy, and Athleta stores.
While the S&P 500 has nearly recovered to new all-time highs since the recent pullback, that's not the case for Gap. The company has bounced slightly in the last week. But it's still down 34% since March.
That downtrend means we can't buy just yet. But it's setting up a fantastic opportunity. The company is now at an oversold extreme based on its relative strength index ("RSI").
RSI is a measure of a stock's recent gains versus its recent losses. And a low RSI figure shows a company is oversold... which often leads to a quick bounce higher in prices.
If you look at Gap's weekly RSI, you'll see it has only hit levels this extreme five other times over the past 30 years. The chart below highlights each occurrence...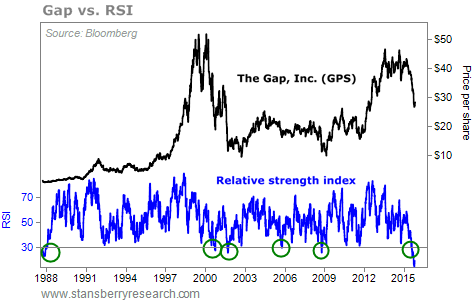 These oversold extremes tend to lead to solid gains over the next several months, once shares rebound from oversold territory. Take a look at what has happened each time we've seen a similar setup...
Signal

1-Month Return*

3-Month Return*

6-Month Return*

1/15/1988

0.0%

1.1%

56.7%

10/20/2000

3.3%

13.1%

12.3%

10/5/2001

3.4%

17.2%

17.4%

10/21/2005

6.9%

4.2%

10.4%

10/31/2008

0.6%

-12.3%

21.5%

Average

2.8%

4.7%

23.7%

*includes dividends

These are fantastic returns. Over six months, the average gain was nearly 24%... And none of these trades lost money.
Again, Gap is in a strong downtrend right now. And this indicator won't flash "buy" until it rebounds from oversold territory... So we aren't buying today.
However, if you're looking for a stock with big upside potential, keep an eye on shares of GPS. Once the trend turns around, history shows that double-digit gains are likely in just a few months.
Good investing,
Brett Eversole