"A wave of junk-bond defaults could cripple the markets..."
My colleague Porter Stansberry has been saying this for years (or words to this effect). And he has been right...
The major junk-bond exchange-traded fund – the iShares iBoxx High Yield Corporate Bond Fund (HYG) – is down 11% in the last year. Over two years, the picture is worse.
I have no interest in buying junk bonds today... But I have to be honest with you here...
This two-year fall in junk bonds is finally creating some value...
Thanks to their huge fall over the last two years, junk bonds are at their most extreme level relative to stocks since 2011. Specifically, the junk-bond yield over the Treasury-bond yield is the highest it has been since 2011.
I think Porter will continue to be right in the near term.
But based on our number crunching, in as soon as a year, we could start seeing big returns in the high-yield market. (Again, I am NOT a buyer today... I'm just pointing out that value is starting to appear.)
Here's what I see...
As I write to you, junk bonds now pay an 8% higher interest rate than Treasury bonds.
This is the first move above 8% or more that we've seen since 2011. (Remember, higher yields mean lower bond prices.)
Junk-bond spreads of more than 8% over Treasury bonds aren't that common...
Over the last 20 years, we've only seen junk-bond spreads this high 16% of the time. Take a look...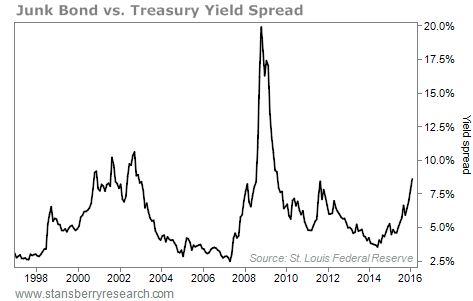 Historically, buying high-yield bonds when this spread first hits 8% isn't a good idea... You don't know how long the crisis will go on. As the table below shows, junk bonds tend to underperform in the year after we first see junk-bond spreads rise to 8%. Take a look at the returns...
| | | | |
| --- | --- | --- | --- |
| Investment Strategy | 3-Month | 6-Month | 12-Month |
| All periods | 1.7% | 3.6% | 7.4% |
| When spread first hits 8% or more | -1.4% | -2.0% | 4.0% |

High-yield bonds have lost money, on average, three and six months after they first hit 8%. And a year after they first hit 8%, they've dramatically underperformed their typical yearly gain. But then things change...
By simply waiting to buy until a year after the spread hits 8%, you could have made fantastic returns. The table below shows this idea in action...
| | | | |
| --- | --- | --- | --- |
| Investment Strategy | 1-Year | 2-Year | 3-Year |
| All periods | 7.4% | 15.5% | 24.1% |
| Buying a year after spread hits 8% | 17.3% | 33.5% | 47.6% |

We can't know the exact time frame that junk bonds stop losing value and start to go up in value... But based on recent history, buying one year after today's extreme could be a successful strategy...
The average gains were 17% a year later, 34% two years later, and 48% three years later. Importantly, this strategy never lost money after two or three years (though we're not talking about a lot of trades).
The simple story is that junk bonds are hitting an extreme not seen since 2011. Based on history, this extreme could continue to get worse, pushing returns down in the short run... But junk bonds could perform extremely well a year from now and beyond.
So is now the time to buy? Personally, I will likely wait until after the turning point. When junk-bond interest rates start to fall, I will start getting interested.
We're not there yet... so avoid junk bonds for now. But for big gains, be ready to buy in as soon as a year...
Good investing,
Steve