A certain commodity jumped 7% from February 26 to March 4.
That was its largest weekly return since December 2011. And the jump will likely lead to even higher prices. A 32% increase over the next year is possible for this commodity, based on history.
I'm talking about copper...
And as I'll show you, this major move could cause copper miners to soar as well. In fact, triple-digit upside is entirely possible...
Copper prices have been in steep decline... for years. The metal is down more than 50% from its 2011 high. Take a look at this massive downtrend...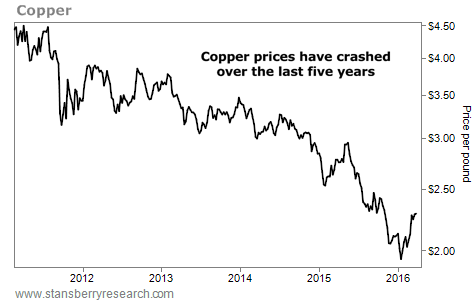 And as you can see, there were several times when copper seemed to be carving out a bottom. But it continued to fall instead of rallying higher.
But this instance could be different thanks to copper's recent rally...
Like I said, copper jumped 7% three weeks ago. Weekly gains of that size have only happened 3% of the time over the last 20 years. So this is a rare rally.
In fact, going back to 1996, a 7%-plus weekly jump has only happened 29 other times. And those 29 opportunities were great times to buy. The table below shows what copper prices did after those rallies...
| | | | | |
| --- | --- | --- | --- | --- |
| Copper Price | 1-Month | 3-Month | 6-Month | 12-Month |
| All periods | 0.5% | 1.9% | 4.3% | 9.6% |
| After weekly gain ≥ 7% | 4.6% | 12.1% | 20.4% | 32.1% |

As you can see, copper prices tend to soar after a big one-week rally. On average, we saw a 12% increase in just three months and a huge 32% increase a year later.
Of course, a big rally in copper prices is good for copper producers... including companies like Freeport-McMoRan (FCX).
Freeport has already been soaring as copper prices moved higher in recent months. The company's stock price has more than doubled since copper bottomed in January. But those gains could just be getting started if copper prices continue to soar.
The last time copper had a major rally – during 2009 and 2010 – Freeport shares soared roughly 400%. So while Freeport is already up big, triple-digit gains are still possible from here.
Freeport-McMoRan and other copper miners will be volatile... But they're a smart way to play the coming rally in copper prices.
Invest accordingly.
Good investing,
Steve