I'm glad you want to hear more about finding good ideas...
Yesterday, I shared an example of how I size up a potentially profitable opportunity.
Readers wanted more... So let's take a look at another investing idea today...
You probably know by now that I look for three things in an investment – I want to see an investment that's 1) cheap, 2) hated, and 3) in the start of an uptrend.
The investing idea we're looking at today is cheap... It's down about 85% since 2007 (from around $140 to around $20). Take a look...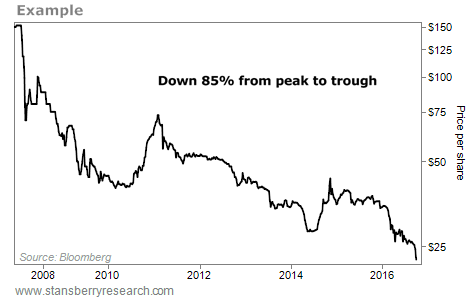 After an 85% crash, you can imagine that this investment is also extremely hated by investors... And this hate is what gets me interested.
You see, if you want to make triple-digit returns, you can't buy what everyone already loves... The biggest gains happen when things go from "bad" to "less bad."
And in today's example, things are BAD...
"It has never been a worse time," a CEO in this industry said in a Reuters news story this week. "At the moment, nobody feels the need to buy and the price is lower every day," he continued.
He's right... Over the last year alone, the price of this investment has fallen 42%...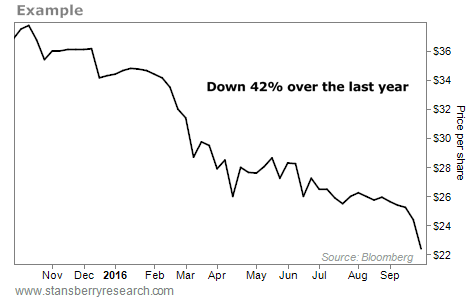 So this idea is clearly cheap and hated. But is it in an uptrend?
Obviously not. It's hitting new lows every day.
This idea ticks the first two boxes. But because we don't have an uptrend, the idea simply goes on the "watch list." It'll be a trade someday... but not today.
What is this idea? It is uranium.
Legendary resource investor Rick Rule made the long-term case for uranium at our Stansberry Conference in Las Vegas two weeks ago. He said...
Uranium... You make the stuff at $65 a pound, and you sell it for $25 a pound. That means you lose $40 a pound, and you do that 190 million times a year.
So... how many people here believe we're going to have electricity in six or seven years? [
Most hands go up
.] That means you believe that the price of uranium – the stuff you make electricity out of – goes up. No second choice.

That's the long-term story. But the short-term story is crazy...
You would think that if you're losing $40 for every pound you produce, you would cut back production. But the opposite has happened... thanks to Kazakhstan. Quoting Reuters...
Despite the plunge in uranium prices after the 2008 financial crisis and again after Fukushima, uranium production has doubled from 80-90 million pounds in the mid-1990s to about 160 million pounds last year, according to Energy Fuels data.
Most of that new supply came from Kazakhstan, which over the past decade has more than quintupled its output to become the world's leading source of uranium with a 38% market share...
In short, "At today's prices, [the uranium] industry is not sustainable," another industry executive told Reuters. (You can read the full story
here
.)
Uranium is incredibly cheap and incredibly hated. There's a great long-term case for it, as Rick Rule explained. But in the short run, things can get worse before they get better.
In the meantime, I will watch for the uptrend – the price action – to confirm this idea before any data in the market will confirm it. That's why it's so important.
After an 85% fall since 2007 and a 42% fall in the last year alone, we are not there yet. There is no uptrend in sight.
Today's essay wasn't about uranium, though. It's not about giving you a fish... It's about teaching you how to fish...
It's about showing you how I look for an idea... the thought process I use to decide when to enter a trade.
I hope you can use this thinking to know when to enter a trade... and when to stay on the sidelines.
Good investing,
Steve