Wow. I can't believe the sea change that has happened in gold in the last two weeks...
Two weeks ago, my headline here in DailyWealth was "Gold Isn't a Buy Yet... But it's Close."
That day, I said:
Personally, I look forward to getting back into gold and gold stocks with my own money... They have fallen, a lot, and I believe we're at the early stages of a major long-term bull market in gold stocks.
But even after such a fall, and even with my long-term outlook, I personally can't get excited just yet...
Unfortunately, gold is still loved... And it's still in a downtrend.

My, what a difference a couple of weeks makes...
Today, large investors are bailing out of gold – at a frenzied pace. Take a look...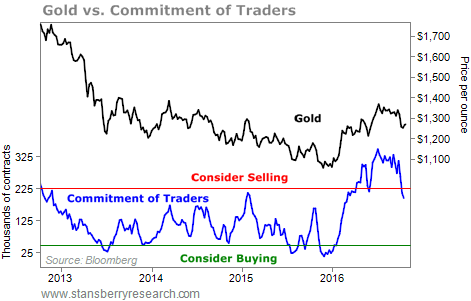 Meanwhile, the bleeding might have stopped in the price of gold. It's hard to call it an "uptrend" right now... But gold has moved sideways for weeks. The downtrend might be nearing its end.
And it's not just gold...
We've seen similar extreme moves by big traders in other precious metals.
Platinum has been the most extreme. Take a look...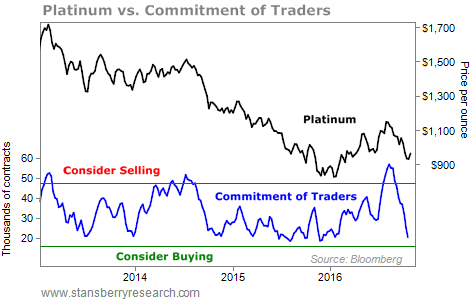 You can see from the chart that you don't want to own platinum when investors have piled up big bets on the metal. That's where we were over the summer. But as you can see in the bottom right of the chart, big investors have bailed out of platinum today.
So the big question is... What do we do now?
Is this moment a buying opportunity for gold and precious metals?
Personally, I'm still not buying just yet...
I want to see even more large investors get out. And I want to see more of an uptrend in prices.
I want to be clear here: The story for gold and precious metals has improved dramatically in the last two to three weeks. The change has been more dramatic than we've seen in a long time.
Now is a much better time to enter gold or precious metals than it was two or three weeks ago.
But it's still not "optimal" – yet.
Based on these charts, platinum is closer to a "buy" now than gold...
More investors have given up on platinum. That's means platinum is closer to the bottom, in my book.
Summing up, investors have massively changed their opinions on gold and other precious metals in just the last couple weeks. And big investors have started to throw in the towel.
I didn't think it would happen this quickly, or to this degree. But it's true. Gold is quickly moving from "loved" toward "hated" again.
I love to see this... This makes gold and other precious metals much more attractive than they were just a couple weeks ago.
The "red light" in gold has changed to yellow... We're just not all the way to green, yet. I'll let you know when we get there.
Good investing,
Steve