If you're worried about China's economy, consider this... One rare constant in global markets is China's never-ending stream of contradictory signals.
By some measures, you might think the picture looks grim. China's Shanghai Composite Index fell 11% in 2016... Last month, the renminbi, China's currency, reached its lowest levels versus the U.S. dollar since June 2008... And China's hot housing market is in bubble territory.
But the key to interpreting what's really going on with China's economy rests with four main indicators. And the latest numbers suggest that China's economy is humming along...
| | |
| --- | --- |
| 1. | China's manufacturing industry is expanding. |

The first key figure is the Purchasing Managers' Index (PMI). This reflects the health of China's manufacturing sector. A PMI reading above 50 means the manufacturing sector is expanding. Anything under 50 means it's shrinking.
China is trying to shift its economy to be more consumer-driven... But China is still the world's biggest manufacturing center. So a strong manufacturing PMI number means an important driver for China's economy is healthy.
Take a look at this chart...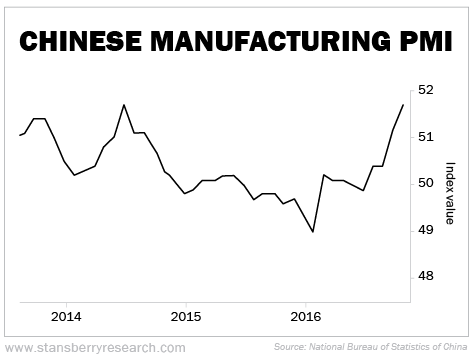 The PMI reading for November 2016 was 51.7, the highest reading since July 2014. This means that the manufacturing sector is expanding. And after struggling in 2015, the PMI was at or above 50 for most of last year, and it has been climbing higher since July.
| | |
| --- | --- |
| 2. | Industrial production is holding steady. |

China's industrial production measures the performance of the manufacturing, mining, and utilities sectors by looking at changes in the value of their products.
China's industrial-production growth fell by more than half between 2011 and 2015, as shown in the chart below. But over last year, growth leveled out...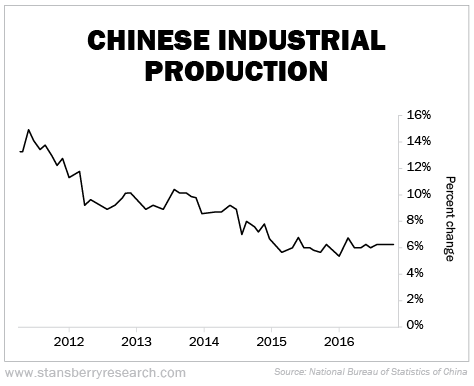 After years of declining growth rates, if industrial-production growth holds steady, that's a good sign for China's economy.
| | |
| --- | --- |
| 3. | Exports and imports are growing. |

When China's October trade data were released a month ago, they showed that the total value of China's exports and imports had increased compared with the year before. It was the first time both imports and exports had increased since October 2014.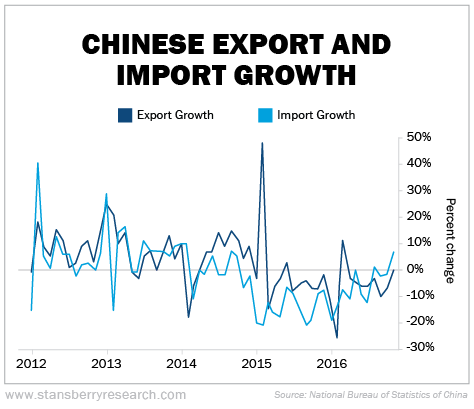 Exports saw their first year-over-year increase since June 2015. And imports from other countries grew more than exports. The value of goods imported in October was up 6.7% compared with a year earlier. That's the fastest growth since September 2014.
Imports grew despite continued weakness in the renminbi. When a currency is weakening, imports become more expensive. This growth suggests that Chinese consumers, led by the growing middle class, are spending more of their rising incomes on more imported goods.
| | |
| --- | --- |
| 4. | The Baltic Dry Index is climbing, too. |

The Baltic Dry Index (BDI) tracks the daily pricing of shipping dry cargo raw materials (like metals and grains, but not oil) by sea. It's often used to measure the health of the global economy, since global supply and demand for materials drive shipping prices.
It's also a great way to get an idea of what's happening in China. That's because China is the world's biggest consumer of raw materials. It needs these raw materials to feed its huge manufacturing sector.
So when the BDI is climbing, it can be a good indicator that China's manufacturing is ramping up. Take a look at the chart below: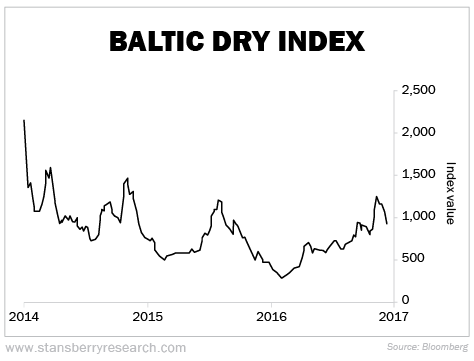 As you can see, the index has rebounded off its February 2016 bottom. It's now 225% higher than its February lows. It may never again reach the heights of May 2008, or even May 2010. Regardless, the upward trend is a good sign that the economies of China and the rest of the world are set to grow.
An expanding manufacturing sector, stable industrial production, growing exports and imports, and a climbing Baltic Dry Index all point to one thing: China's economy is improving or, at a minimum, stabilizing.
If these fundamentals continue to improve, it will be a good foundation for China's economy to grow on. And it will bolster the case for investing in China.
Good investing,
Kim Iskyan