A "stealth" bull market is now underway in Europe – and your potential upside is far greater than you can imagine.
Since the end of 2008, U.S. stocks are up roughly 150%... But European stocks have been completely left behind.
You might ask, "If that's the case, then why should we care about owning European stocks today? Why shouldn't we just buy U.S. stocks and forget about Europe?"
It's because the situation today is so extreme...
We've never seen European stocks left so far behind the U.S. And based on history, this extreme underperformance sets us up for significant upside.
Let me explain...
To set the stage, take a look at just how dramatically Europe has underperformed the U.S.:

This underperformance is even more shocking when you realize that U.S. and European stocks basically tracked each other for the preceding 20 years: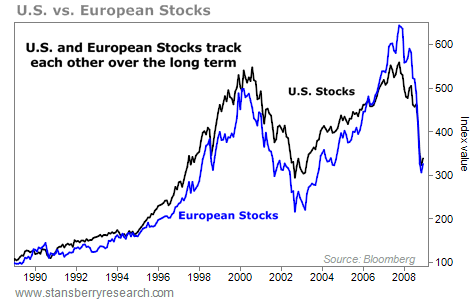 But does this matter? Is there a path to profit from this? Yes... because after extremes much smaller than this one, history shows that huge gains have followed.
Take a look...
This next chart shows the rolling eight-year performance difference between U.S. and European stocks.
Here's how it works: If U.S. stocks return 100% over eight years and European stocks return 50%, the chart would show a 50% reading... And U.S. stocks would have outperformed by 50 percentage points in that case.
History shows that a 50 percentage-point difference is a typical extreme. But today, U.S. stocks are outperforming by roughly 150 percentage points...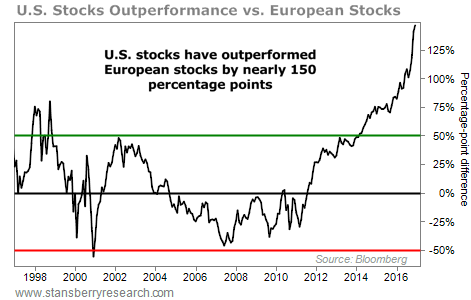 We're in uncharted territory today. The outperformance in U.S. stocks has never been anywhere near this large. But history's less-extreme examples point to big gains ahead in European stocks.
For example, the last time the U.S. outperformed by nearly 50 percentage points over eight years was in 2002. What happened next? A massive multi-year bull market in European stocks...
If you'd waited for the uptrend before buying, then you would have bought European stocks in mid-2003. By late 2007, you would have made 172% gains. U.S. stocks returned just 74% over the same period.
A similar opportunity appeared in late 1998... That time, European stocks jumped 64% in 18 months.
Today's opportunity is more extreme than either of those cases. Europe is starting from a lower base, so your upside could be greater.
European stocks don't have to soar for this extreme to go away. Europe just needs to outperform the U.S.
That could happen one of two ways... 1) if Europe soars higher, or 2) if Europe simply falls less than the U.S. falls.
We don't want to buy European stocks solely because they've underperformed. When you dig a bit deeper, you realize that Europe offers exactly what I want to see in a trade... European stocks are 1) cheap, 2) hated, and 3) in the start of an uptrend.
With the setup we have today, we could potentially see a mid-2000s type of bull market – when European stocks soared 172% in just a few years.
Europe is not on most people's radar – and that's just the way I like it. Don't wait... Consider taking a position in European stocks today.
Good investing,
Steve